Blacks in Osteopathic Medicine - Virtual Presentation by Dr. Darnita Hill
Back
Date & Time: Mar 17, 2021 12:00PM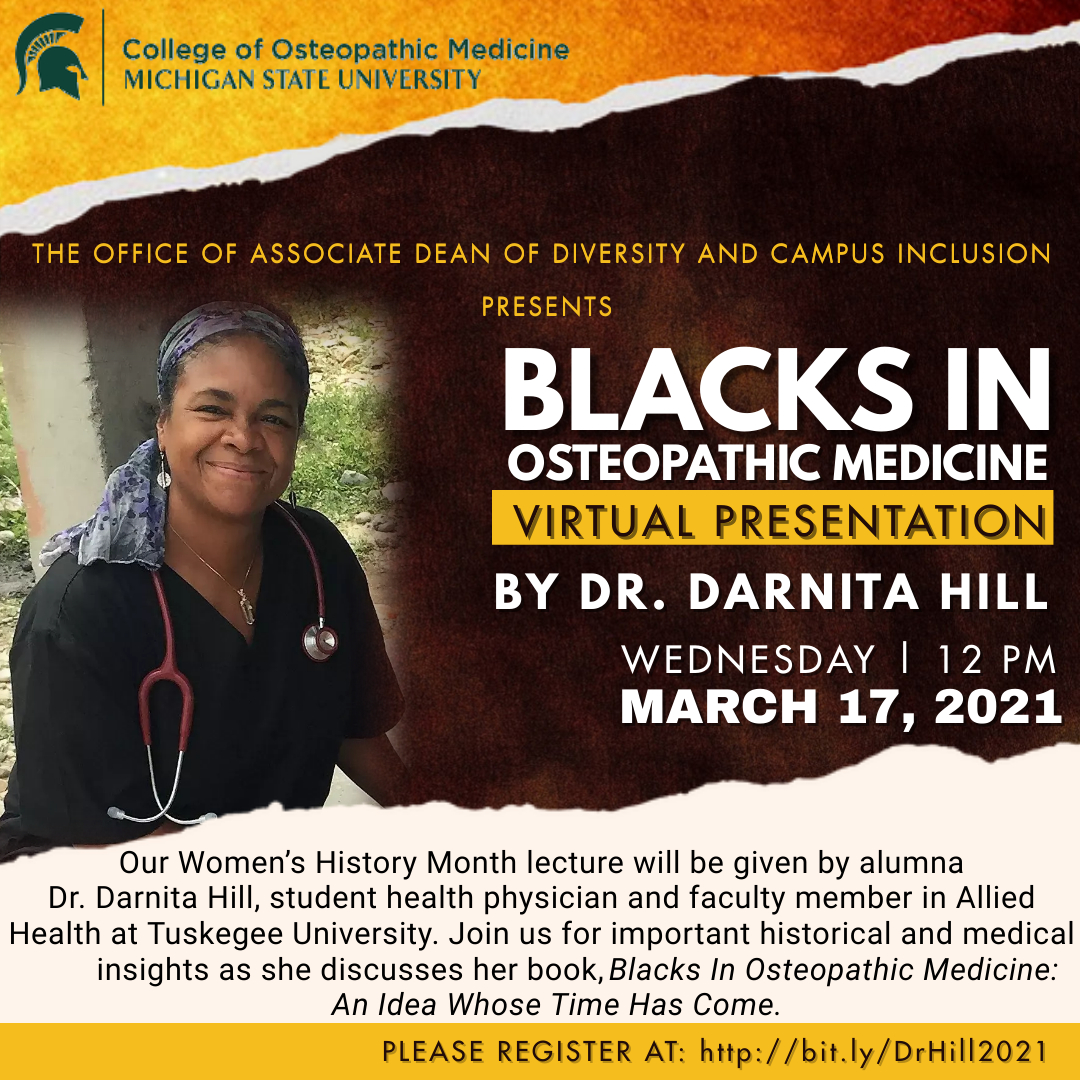 Please see the message below on behalf of the Office of Diversity and Campus Inclusion
Dear COM Faculty, Staff and Students:
You are invited to a special webinar by Dr. Darnita Hill, "Blacks in Osteopathic Medicine" (registration is required at the link below)
March 17, 2021 at noon
About Presentation
Our Women's History Month lecture will be given by alumna Dr. Darnita Hill, student health physician and faculty member in Allied Health at Tuskegee University. Join us for important historical and medical insights as she discusses her book, Blacks In Osteopathic Medicine: An Idea Whose Time Has Come.
You are invited to a Zoom webinar.
When: Mar 17, 2021 12:00 PM Eastern Time (US and Canada)
Topic: Blacks in Osteopathic Medicine
Register in advance for this webinar:
Or an H.323/SIP room system:
H.323:
162.255.37.11 (US West)
162.255.36.11 (US East)
115.114.131.7 (India Mumbai)
115.114.115.7 (India Hyderabad)
213.19.144.110 (Amsterdam Netherlands)
213.244.140.110 (Germany)
103.122.166.55 (Australia Sydney)
103.122.167.55 (Australia Melbourne)
149.137.40.110 (Singapore)
64.211.144.160 (Brazil)
69.174.57.160 (Canada Toronto)
65.39.152.160 (Canada Vancouver)
207.226.132.110 (Japan Tokyo)
149.137.24.110 (Japan Osaka)
Meeting ID: 910 0827 0454
Passcode: 025961331
Passcode: 025961331
After registering, you will receive a confirmation email containing information about joining the webinar.
----------
Webinar Speakers
Dr. Darnita Hill