Why MSU College of Osteopathic Medicine?
Opportunity and COMmunity
One campus, three sites. Future physicians may do their first two years of preclerkship training at one of three sites – on the Michigan State University campus in East Lansing, the Detroit Medical Center (DMC) and at the Macomb University Cente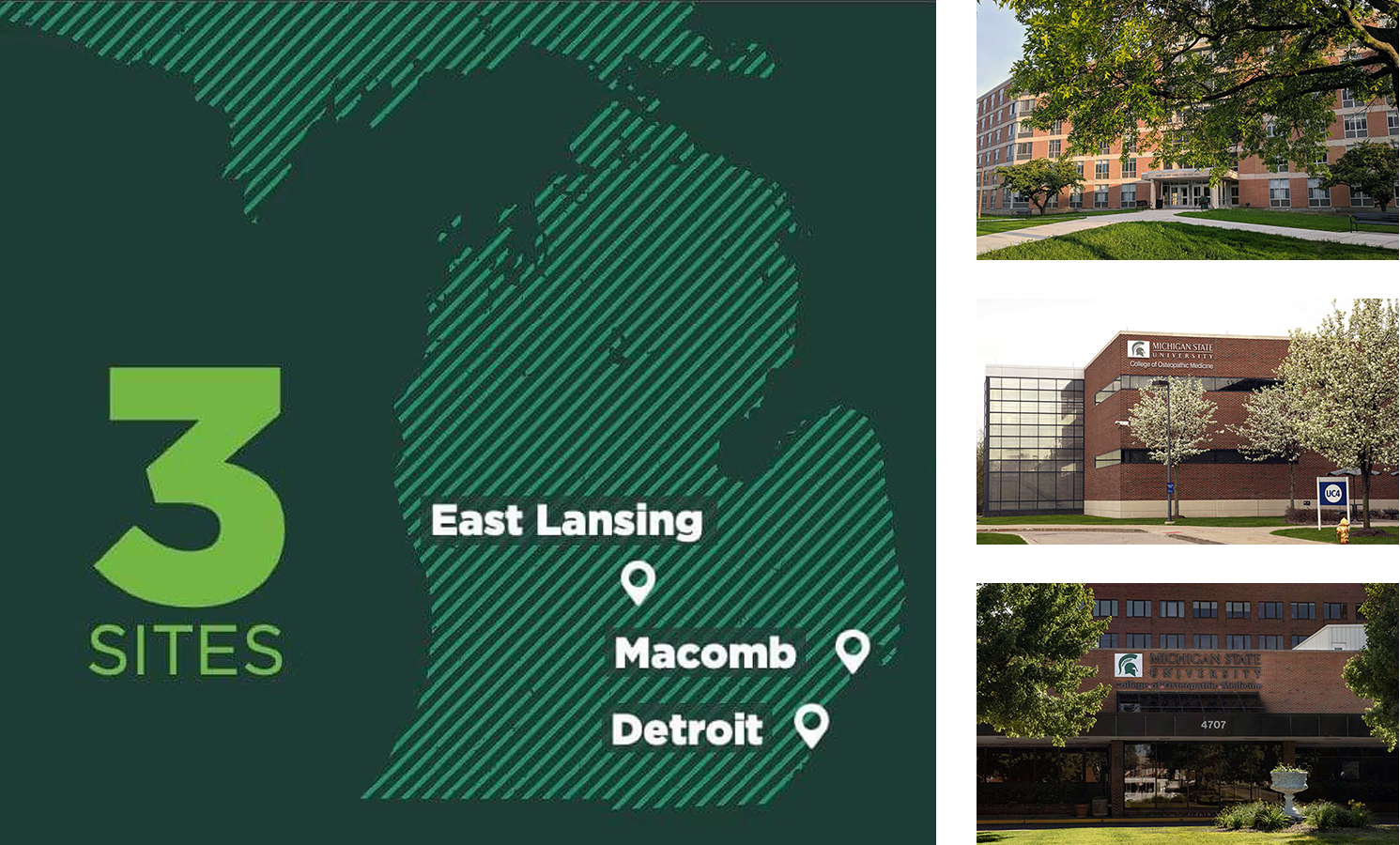 r in Clinton Township. And you'll be a part of the second-largest medical training system in the U.S.
Michigan State University College of Osteopathic Medicine provides flexibility and opportunity for training in all areas of modern clinical care. Thirty-three hospitals and six federally qualified health centers are part of the Statewide Campus System (SCS) where third- and fourth-year students take clinical rotations. MSU College of Osteopathic Medicine offers the highest ratio of graduates to available graduate medical education slots among all osteopathic schools. Graduates obtain residency both in Michigan and across the U.S.
Extraordinary Outcomes
Create your medical career the way you see it. The college's match results are consistently strong, reflecting a diversity of outcomes as well as broad impact at the state and national levels. MSUCOM has graduated over 7,600 DO physicians. Our alumni serve patients in communities across Michigan, the United States and internationally.
99% Match Rate for the Class of 2023
Out of 275 August/December/May graduates, 271 matched, for a 99% match rate. One hundred and thirty-six (50%) matched graduates will train in a MSUCOM Statewide Campus System residency program, and 120 (44%) will train in Family Medicine, Internal Medicine, Pediatrics and Pediatrics - Internal Medicine. Two hundred and ten (77%) matched graduates are staying in Michigan for residency training. Five (100%) military students received residency training positions through the military. Nine (100%) international students received residency training positions in the U.S.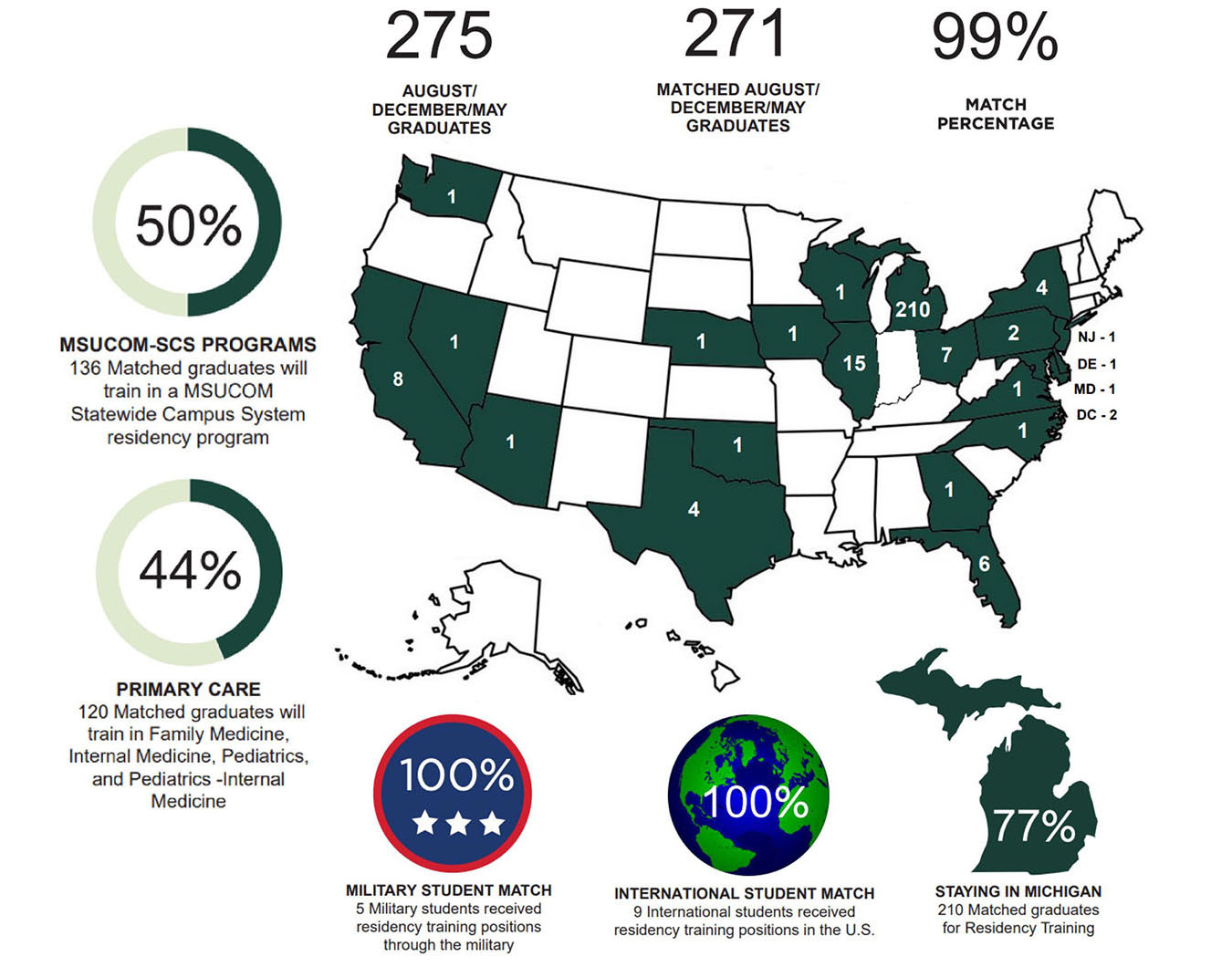 Supporting Your Journey
Medical school is incredibly rewarding, but it's also stressful. We recognize that anyone can experience personal and professional challenges, and the college is fully committed to the physical, mental and emotional health of all students. Wellness and Counseling services are available at all three sites. Academic and Career Advising supports the continuum of student success from orientation to graduation.
You Belong Here
You will have numerous chances to explore specialties, interact with faculty and clinicians, and ignite your passion to practice medicine. And we'll be here to support your journey with career guidance, academic counseling, research opportunities and student organizations.
Your White Coat is Waiting
Welcome to your future. Take the first step to an extraordinary life of serving people, healing others and leading within your community. MSU College of Osteopathic Medicine has been welcoming bright and talented people who want to make a difference in the world for 50 years.
Wherever your training and passion lead you in the future, you've picked the perfect place to begin your work.
Webinars
The Office of Admissions hosts informational webinars throughout the year, covering a range of topics, including the educational programs of the college, the application process, interview preparation and new student events.
Check the calendar for upcoming webinars.
Note: Visit these pages for instructions to apply to Dual Degree Programs, Global Health Studies, the PA Medicine Program, or Pre-College Programs.
Need help?
Future first-time applicants are invited to meet with an admissions counselor to address application and preparation questions. We are currently scheduling online/remote appointments only.
Contact
Email: COM.Admissions@msu.edu
Phone: (517) 353-7740