Dean's Update 2023-02
February 17, 2023
Hello Community,
It is with a heavy heart for our Michigan State University community and families who have suffered devastating losses that I address you in this Dean's Update. As you are aware, the recent tragic shooting Monday night, Feb. 13, on Michigan State University's East Lansing campus took the lives of three of our MSU students and left five others in critical condition. This tragedy has touched all of us in the community. It is something we will not forget.
As we saw the events unfold through news and social media, I was horrified by the devastating tragedy. I was also heartened by those on the front lines who responded to calls for help without hesitation. Our police officers and emergency responders, as well as so many others from around the area who joined them to assist, worked to protect the university and the surrounding communities.
In addition to those who were onsite, there were many others who worked tirelessly to care for those who were injured. We saw the greatness of humanity jump in to serve others. During this time, we saw one of our own, Denny Martin, D.O., chief medical officer at Sparrow Hospital, who spoke at a news conference Tuesday morning with Michigan Gov. Gretchen Whitmer, MSU Interim President Teresa Woodruff, and others addressing the events of Monday night. Dr. Martin broke down into tears as he spoke to the community about our own Spartans who were critically injured and in his team's care.
Our MSUCOM psychiatry residents and faculty jumped in to support university students with counseling at the Hannah Center, and other members of our college have been assisting with listening sessions across campus to help the community begin to heal.
Because of all of you and your commitment to others, I am reminded that those who we educate in our college – our future physicians and future physician assistants – are the ones who are on the front lines during disasters and emergencies. We most certainly saw it as these tragic events unfolded and as we try now to move forward.
Often in moments like these, we stop and take some time to appreciate those people who are in our lives and who touch our lives. I want to take this moment to stop and thank all of you for all you do as we together navigate this incredibly difficult time.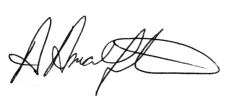 Dean Andrea Amalfitano, D.O., Ph.D.