The Michigan State University College of Osteopathic Medicine (MSUCOM) class of 2023 celebrated on Friday, March 17, with family, friends and classmates as they gathered at the MSU Kellogg Center to tear open envelopes to learn their residency program matches.
The graduating students achieved an impressive 98% match rate. In addition, MSUCOM military students and international students achieved a 100% match rate.
The 269 MSUCOM matched students will be heading into 25 specialties across 18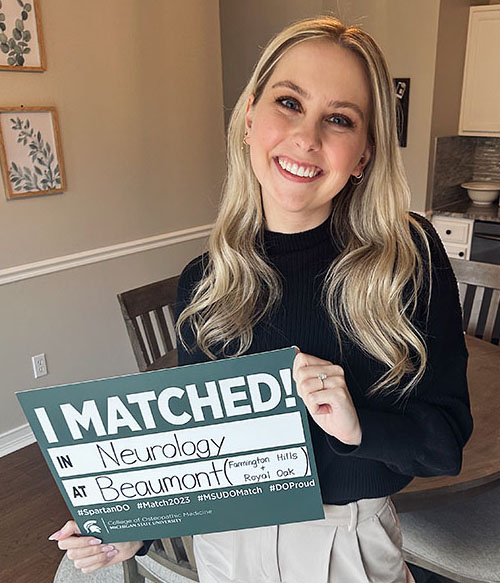 states, with 78% staying in Michigan.
For Alexis (Lexie) Brimmeier, from Shelby Township, who matched in neurology at Beaumont Hospital in Farmington Hills Royal Oak, it was the philosophies of the college and how they align with her own values that drew her to MSUCOM for medical school when she was still an undergraduate student at MSU. Now she's heading to her top choice for her residency.
"I am thrilled to have matched at my No. 1 program," Brimmeier said. "The supportive, family-like atmosphere, along with the vast clinical exposure, strong outpatient training and exceptional education really drew me to this program. I truly cannot wait to get started, and I am so grateful that I get to train with such an awesome group."
Krishna Yelleswarapu from Norwood, Mass., is a D.O.-Ph.D. student who matched with Sparrow Hospital Neurology in Lansing. "I am excited and blessed to have matched at Sparrow Hospital," Yelleswarapu said. "I have done my clerkship training here, an audition in neurology here, and I know that I'll be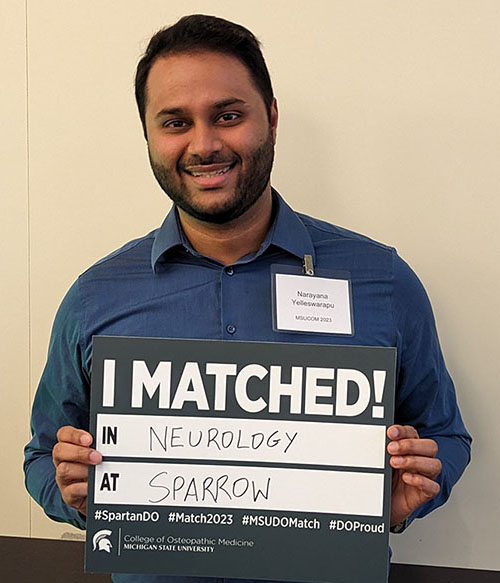 working with excellent and kind physicians over the next four years."
Yelleswarapu chose MSUCOM because of "the unique integrated training program in osteopathic medicine and scientific research," he said. "The administration and current students during my interviews were happy, supportive and friendly. It made me realize that I was wanted here. Moreover, being surrounded by a supportive community was important for me as I started an eight-year program."
For those medical students looking ahead to a Match Day in the future, Yelleswarapu said to never give up on your dreams and stay focused on the goal. "Failures, however one may define them, do not mean the end of your goals," he said. "Own the failure, learn from it, plan accordingly and network. Most importantly, stay positive and keep pushing forward."
Fifty-one percent (51%) of MSUCOM graduates will train in a Statewide Campus System (SCS) residency program, strengthening the pipeline of caring for Michigan communities.
In fact, it was the SCS that was a "huge factor" in Victoria Behlow choosing MSUCOM for medical school. The Sterling Heights resident wanted to be close to family and friends – her support system – while in medical school, but also saw the relat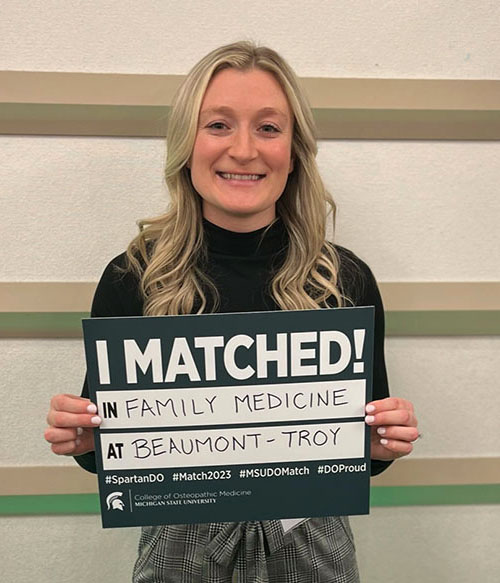 ionships between the college and these hospitals across the state and knew this would be "beneficial for networking, increased resources and educational opportunities."
Behlow matched into Family Medicine at Beaumont Hospital in Troy, just a couple of miles from where she grew up. "I volunteered here in high school, was a medical scribe here in undergrad and wanted to come back to serve the community that I grew up in," she said. "As medical students we dream of this day for many years, and it still does not feel real that my childhood dream is coming true!
"I am incredibly honored and grateful to have the opportunity to train in such a strong family medicine program in my hometown."
Forty-four percent (44%) of MSUCOM students are headed into primary care (family medicine, internal medicine, pediatrics and pediatrics-internal medicine). Other specialties include, but are not limited to, anesthesiology, dermatology, emergency medicine, general surgery, neurology, OB/GYN, psychiatry, radiology and urology.
Lifelong Spartan and Michigander Tess Vindischman, from Ortonville, wanted to stay in Michigan and serve the people of this state. Matching in Diagnostic Radiology at Trinity Health in Oakland/St. Joseph Mercy Oakland Hospital in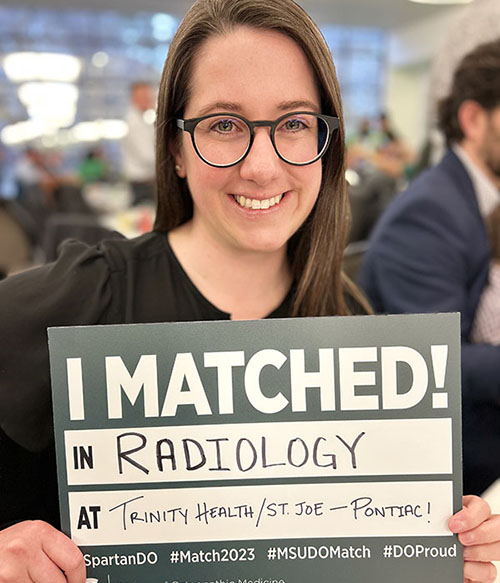 Pontiac, Vindischman said she "knew that there would be no limit to the opportunities provided by MSUCOM and its vast network."
She took that belief with her when applying into radiology, saying she felt like an underdog and now wants others to know to never give up on their dreams.
"I am thrilled with my match because I believe this program will provide the exact training I need to be a successful private practice radiologist in the metro Detroit community for the duration of my career," Vindischman said, adding another "X factor" for her is the proximity to her family horse farm, which will also allow her to continue her professional equestrian goals while in residency.
Her advice to others is to set yourself up for success. "…have everything ready early, make all your connections meaningful, and show how genuinely excited you are for whatever opportunities you receive!" Vindischman said.

The MSUCOM community is proud of these future doctors – for matching into a residency program or for continuing their learning and contributions to the community in other ways after graduation. Check out the MSUCOM Instagram page to see Match Day #IMatched photos.
Go Green!