Dean's Update 2022-01
January 25, 2022
Pivoting the clerkship experience in response to COVID-19
Nearly two years into the pandemic, I want to again reflect on the flexibility and innovative solutions that continue to be implemented by our college, students, and hospital partners. We have from the beginning of March 2020 addressed the impacts of the COVID-19 pandemic, and the responses to it, so as to ensure our medical students continue to receive high-caliber training and real-world experience to allow them to eventually serve the health of communities as osteopathic physicians.
When this disease first began to strain the health care systems, our university, and our college, we made decisions as to how we would navigate the changing landscape of a global pandemic: by minimizing risk of infection, while maximizing the educational experiences of our student body. I'm proud to say that we have exceeded our goal, and that despite a pandemic, by May 2022 we will be on track to graduate almost 900 DOs since the pandemic started, who will serve the ongoing health care needs of our communities.
I am most proud of our SpartanDO students for stepping up and exemplifying the Spartans Will attitude to step toward illness and provide care to those who need it most. I greatly admire our clinical partners for quickly stabilizing their capacities to treat those affected by COVID-19 while still continuing the education of tomorrow's DOs. This quickly evolving virus truly tested our capacity as a community-based medical school to continue our mission, and I am proud to say we have done so in a manner that serves to further my firm belief that the college will continue to be well positioned to execute its mission for another 50 years!
One of the most difficult elements of accomplishing our mission during the pandemic has been our ability as a college to provide, in partnership with our 22 clinical partners, the osteopathic medical education of approximately 600 third- and fourth-year COM students in their clinically-based clerkship experiences. Much of this was managed by our Assistant Dean for Clerkship Programs, Dr. Susan Enright, who oversees our college's clerkship program, and has been instrumental in our ability to continue to meet our mission as a medical school. I'd like to thank her, and her team's incredible efforts during these past years. Below, Dr. Enright shares her observations on the ways the clerkship experience has changed in response to the COVID-19 pandemic, and her thoughts on how we will go forward. Thank you, Dr. Enright!
---
Each step of medical school contributes to shaping dynamic, adaptive, compassionate physicians, yet every wave of the COVID-19 pandemic has presented new challenges for each of those steps. When clerkship programs were paused in March 2020 for SpartanDO students and medical students nationwide, the college's clerkship team worked quickly and collaboratively to modify the in-person components and create a seamless curriculum for students.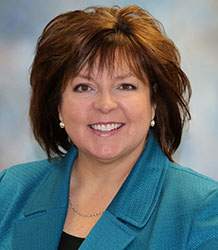 Initially, the clerkship programs pivoted to a virtual format rather than in-person clinical rotations, which called for swift action to develop a new, online curriculum. During the pause in clinical activity, instructors of record (IORs) and course assistants (CAs) built the online content from the ground up for both core and elective rotations.
The college's vast system of hospital partners also made significant adjustments to the clerkship curriculum to provide students with an excellent experience in the clinical realm. When SpartanDO students returned to in-person clinical rotations in June 2020, clinical partners altered their daily work to be more beneficial for students while maintaining safety precautions, including finding larger rooms for proper social distancing and providing didactic sessions online.
Some partner institutions also welcomed more SpartanDO students for core and elective rotations in the event that another partner could not. Our students were able to get back into clinical rotations quickly as a result of the cooperation and acceptance of our partners.
Worldwide travel limitations were an added layer of challenge for fourth-year students looking for future residency programs. Because of this, many base hospital partners supplied significantly more elective rotations for students in their fourth year, on top of hosting third-year students in core rotations. This allowed students to progress with the curriculum despite travel restrictions and serve the health needs of nearby communities.
We are incredibly lucky to have a large base hospital system. It has been a great advantage to our students to have a broad variety of residency programs to visit and see in their fourth year, despite being limited in movement throughout the state and country.
The benefit is mutual – during a nationwide health care worker shortage, many health systems turned to the help of skilled students to ease the strain on their hospital staff. Many of the college's partner hospitals enlisted the help of SpartanDO students to staff testing sites, volunteer in infusion clinics, make contract tracing phone calls, and more.
I anticipate many adaptable, well-rounded physicians emerging from adjustments made by medical schools nationwide. Our clerkship students have seen different rotation areas, experienced new protocols, and have watched how hospital staff react to new developments of COVID-19. They are experiencing something truly unprecedented in medicine.
The college's clerkship team documents every detail of these changes for the Commission on Osteopathic College Accreditation (COCA), in addition to coordinating examinations that were previously in person, working with students who are in quarantine, and assisting in situations where clinical rotations might be harder to find in areas like neurology, family medicine or pediatrics.
The clerkship team also manages the online curriculum developed during the pause in clinical activity in 2020 – all of which is still utilized. The content, which is regularly modified and improved by IORs, is used for students who are quarantining or isolating, so they can continue to progress in their rotation curriculum.
Today's medical students, staff and faculty have reacted and adjusted to dramatic change. With every wave of the pandemic, there are alterations in some way, both operational and curricular. The College of Osteopathic Medicine commends the work of the IORs, CAs, faculty, base hospitals, and other teams at the college – from the enrollment services to advising to clerkship teams – for their ability to adapt and respond to challenging situations to ensure our gradates receive a world-class osteopathic medical education.

Andy Amalfitano
Dean
Susan Enright
Assistant Dean for Clerkship Education