Class of 2024 and Class of 2025 students share excitement about Orientation ReDO events
---
Sometimes, making lemonade from lemons looks like a rescheduled social event.
A few weeks ago, each of our three SpartanDO campuses held an Orientation ReDO—a belated in-person orientation for both the Class of 2024 and the Class of 2025—giving first- and second-year students a warm COMmunity welcome.
Typically held in June at the start of the first year of med school, the 2020 and 2021 events were postponed to late August to allow for more time for planning committees to organize a safe, in-person celebration.
Each campus planned an evening where students, faculty and staff were able to meet, enjoy food, play games and win prizes.
Students and alumni alike often describe SpartanDO as "feeling like home," and the supportive "village" crucial to succeeding in medical school is fostered by relationships sparked at events like these.
The East Lansing campus event attracted over 250 students and faculty, which included trivia and a pet costume contest, as well as excellent music, food and mingling.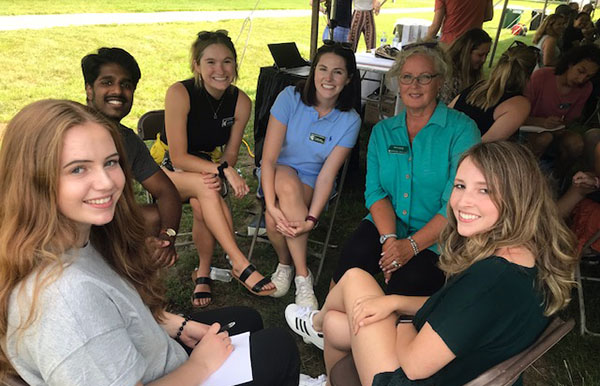 "I'm very happy trivia was received so well and that so many students and faculty/administration attended! I was also happy to see so many DOgs and many were dressed up, too," says Rozzie Bloch, OMS-II, who helped plan the event.
She gives special recognition to Zac Yono (OMS-II), Sameer (OMS-1) and Canyon (OMS-I) for serving as entertaining trivia emcees.
Bloch created the event schedule and coordinated volunteers. Active in student government and other clubs, she is already working on scheduling a Corn Maze with Class of 2025 and faculty/admin this fall.
Over 100 attendees participated in the Detroit Medical Center (DMC) event, which was held offsite at Detroit Shipping Company, and featured food, games and interaction with faculty and staff.
"Spending our first year of medical school in a pandemic had its challenges, the greatest being limited social interactions with faculty, staff and classmates. Reorientation was the perfect start to second year and a great opportunity to gather in a non-academic setting." – Lena Bazzi, OMS-II (DMC VP, Class of 2024)
"It was such a fun event. It was so great to finally see everyone together as one big DMC family!" – Maria Miglio, OMS-II (DMC President, Class of 2024)
"Being able to interact with faculty as well as my peers was an amazing reminder of the support that will continue to be there throughout our last semesters of pre-clerkship and beyond. The venue was a great option, and the team games were fun!" – Dena Bazzi, OMS-II
"Reorientation was a fun and relaxing way to connect with faculty and classmates" – John Karns, OMS-I
"I really enjoyed getting to see my classmates again all in the same place since we haven't been able to do that due to the pandemic!" – Monica Palande, OMS-II
"It was so much fun! It was nice being able to see faculty and everyone from both classes together." – Jasmine George, OMS-II
Over at the Macomb University Center, 70-80 students and faculty gathered to enjoy Italian food and gelato from a food truck, and to play games including water balloon toss, tug-of-war and three-legged races.
"It was such an amazing experience! We here at MSUCOM believe in being not just a COMmunity, but a family. It was beautiful getting to see the OMS-Is, faculty and MUC staff. For the first time, things seemed "normal", [with] a deeper appreciation for getting to be mask-free in a large group, sharing food and laughs, and really feeling like a family for the first time. I'm so grateful for my MUC family!" – Michael Naddaf, OMS-II
"This was such a good way to relax with everyone before classes started. It was great to put faces to GroupMe names and play games with all my classmates. And on top of everything, the food was AMAZING." – Urja Parikh, OMS-I
"Seeing our class have an event like this where we were all able to interact in person with one another and our staff was truly a great experience, especially since being online most of the time in our first year. As the social chair, I really appreciated seeing the comradery within our class and the Class of 2025 and want all of us to be able to experience more events like this together," says Lance Maroki, OMS-II, who helped to organize and run the event and also serves as vice president of the Anesthesiology Interest Group.
"After such a long, dry spell of being in person, the laughter, fun and engagement among students, and with staff and faculty, was so evidently energizing, positive and enjoyable to behold," says Dr. John Taylor, director of wellness and counseling and planning committee member.

See more photos on our Facebook page.