Class, lectures, labs, clinicals, rotations and studying are a large part of a medical student's journey at the Michigan State University College of Osteopathic Medicine (MSUCOM). But it doesn't end there. Students are also looking for opportunities to build their future career while considering how they will positively impact the health of others. The work and dedication are shown in the ways these students show up and go beyond requirements throughout that journey.
Five MSUCOM students in the joint MSU College of Osteopathic Medicine and College of Human Medicine (CHM) Pathology Interest Group received awards or positions from the College of American Pathologists (CAP), American Society of Clinical Pathology (ASCP) and the Association of Pathology Chairs (APC), to help further their education and career. The 2022 MSUCOM winners are:
Meredith Herman, OMS4, received the College of American Pathologists 2022 Distinguished Medical Student Award
Basma Al-Masraf, D.O.-Ph.D., sixth year, received the Association of Pathology Chairs Society of '67 Kinney Scholar Award
Lauren Pelkey, OMS3, received the 2022-2023 University of Virginia Michael J. Gaffey Post-Sophomore Fellowship (medical school "Fifth Year")
Casey Schukow, D.O., 2022 graduate, received the American Society of Clinical Pathology 2022 Annual Meeting Travel Grant
Curtiss Johnson, OMS2, received the College of American Pathologists 2022 Medical Student Travel Award
"These awards and positions are among some of the highest that medical students can earn in the field of Pathology, and these students should be very proud of what they are helping build here at MSUCOM," said Paul Kowalski, M.D., assistant professor of physiology and faculty advisor for the Pathology Interest Group.
Meredith Herman
Meredith Herman, OMS4, not only embraces all that comes with her MSUCOM education, but has gone beyond. While it may be no surprise to many that she earned the College of American Pathologists (CAP) Distinguished Medical Student Award, others may not know she co-founded the MSUCOM-MSUCHM Pathology Interest Group in 2020.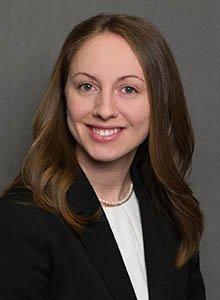 "It is an incredible honor," Herman said about winning the CAP Distinguished Medical Student Award, adding, "I have since seen the value of exposing MSU medical students to pathology as a basic science and as a distinct medical specialty. Students interested in primary care or in any medical or surgical specialty can benefit from learning something about pathology, which forms the foundation of all scientific medicine."
What Herman wants others to remember is that the work of pathologists can be seen throughout medicine. It's the reason she co-founded the Pathology Interest Group at MSU. "It has been a joy to work alongside my fellow colleagues through our work of creating events that promote pathology visibility and education," she said. "My excitement for pathology is similarly reciprocated by our MSU medical students, which drives me to continue to invest in their futures and watch them succeed."
Herman said pathology is a welcoming field and she is grateful for the professors who have guided her, including Kowalski and her mentor, James Billman, M.D., as well as other pathologists she has met during her educational journey.
"Being a recipient of this award is a reflection of the dedication of the university and hospital pathologists who continue to invest their time in fostering the next generation of pathologists. I am humbled and inspired to carry forth this legacy," Herman said.
The CAP Distinguished Medical Student Award recognizes a medical student "for outstanding achievement, great aptitude, or great interest in pathology."
"The CAP Distinguished Medical Student Award acknowledges my engagement and commitment to pathology as a medical student," she said. "As my journey in pathology begins, I look forward to sharing the experiences I have had in the upcoming residency application cycle. It is my hope to continue to give back to the field of pathology and medical education throughout my life's work."
Herman said she was first introduced to pathology during her undergraduate education through the MSU Biomedical Laboratory Science program, where she learned laboratory procedures and mechanism of disease, igniting her curiosity to understand its applications in patient care. "As I went through the program and soon entered medical school, I saw how pathology was involved in nearly every course and specialty," Herman said, adding she also pursued a post-sophomore pathology fellowship at the University of Toledo, where she saw the value of pathologists, as well as the opportunities available in pathology.
"I loved the intellectual challenge of investigating multidimensional causes of disease that are best explained with microscopic analysis and laboratory testing," Herman added.
Basma Al Masraf
Basma Al Masraf, a sixth year D.O.-Ph.D. student at MSUCOM, plans to use her Association of Pathology Chairs Society of '67 Kinney Scholar Award to increase the transparency and awareness of pathology and what it is. She wants other medical students to understand jobs in pathology do exist and to bring awareness to students, so they can connect to resources, including program directors.
As co-president, Al Masraf currently tries to keep the Pathology Interest Group – about 72 students – as informed as possible by sharing emails and other information from national and other associations and groups.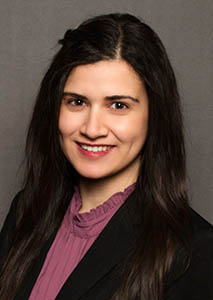 "Pathology has really developed into a passion because when I learned what it was, I knew it was something I would love to do and would want to do," she said. Now she wants all medical students to know more, so they can also decide if it is the right path for them.
Al Masraf lists her top five reasons for becoming a pathologist:
Pathologists make a big impact in the community, hospital clinic, etc., because they're making diagnosis and informing physicians what they're seeing. Many times, it's incidental findings. "You are an important part of the whole story of the patient."
Pathologists have a team they work with, so they're not alone when diagnosing disease and they can talk with experts/colleagues when making these difficult diagnoses.
Pathologists have opportunities for fascinating research and when they have a rare or interesting case, they "can make a case study and write about it, collaborating with colleagues."
Work-life balance. She admits you may not be going home at 5 p.m. when in the middle of research and writing about a specific case and digging into the literature and connecting your findings to the case. "However, pathologists are among the four specialties with the least burnout rate due to manageable work hours and the collaborative and positive nature of the work environment."
There are also opportunities for specialties, such as surgical pathology.
"It's the most developing specialty with nearly any technology being incorporated into diagnosis, and we're driving medicine, driving treatments. We (pathologists) tell what type of cancer, stage, grade, and that drives the type of treatment," she said. "You collaborate with colleagues, plus academic universities. "You have access to tissues that you can share with scientists appropriately to drive research."
Al Masraf is one of 10 recipients nationally for the Kinney Scholar Award.
Lauren Pelkey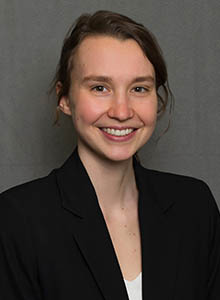 Lauren Pelkey, OMS3, earned the 2022-2023 University of Virginia Michael J. Gaffey Post-Sophomore Fellowship. Pelkey is looking forward to what this opportunity and fellowship will mean to her career and work and how she will share that experience with other students going forward.
"I'm excited to start the position," she said, offering to share more information following her fellowship.
Casey Schukow
For Casey Schukow, D.O., the American Society for Clinical Pathology (ASCP) 2022 Annual Meeting Travel Grant validates and supports his work and will help pay travel fees to the ASCP 100th year celebration, so he can experience the "great presenters and meetings at the conference," where he also submitted a poster presentation.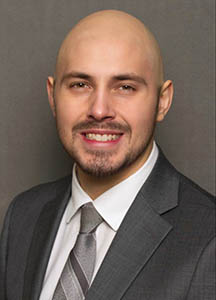 "I want to make the most of this opportunity to build strong relationships and get to know people," he said. "This community is genuine and it's like a village around you."
After connecting with MSU's Pathology Interest Group and thinking about his path, Schukow said he really felt like part of a team. Doing a transitional year internship with rotations at ProMedica Monroe Regional Hospital, the University of Toledo pathology residency program and ProMedica Toledo Hospital, Schukow believes, will help him gain more pathology exposure as he prepares to apply for pathology residency this fall.
"Pathology is everywhere in medicine," he said, adding, "Education drives me. Getting the word out and increasing perceptions of what pathology really is, is important."
In fact, Schukow is working with outreach programs to bring more awareness to pathology professions to high school students. "It's a really cool part of medicine and important to patient care," he said.
Curtiss Johnson
Curtiss Johnson, OMS2, is in his second year at MSUCOM and will use the CAP Travel Student Award to further his experience and develop relationships in the pathology field, one his former job steered him toward.
"I knew about pathology because I had worked as a medical technician for a few years before applying to medical school," Johnson said. Working in the lab for those years had the greatest impact on him and the choices he has made, but Johnson said it was also his mentor – a pathologist – that helped him make up his mind to apply to medical scho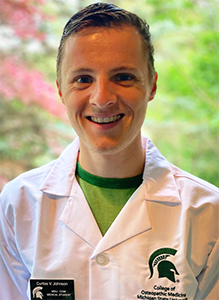 ol.
In fact, the first group Johnson joined as a MSUCOM student was the Pathology Interest Group after going to a presentation with Dr. Kowalski. Afterward, he emailed Herman to learn more about the group. His first encounter was the support system he found while the group met on zoom to help each other with board questions.
Earning the Travel Student Award is another plus that will help him to network and explore all pathology offers and what he can do within research.
"Pathology is a niche field," Johnson said. "It's a great fusion of science, medicine and technology. It's nerdy, but there's something to be said about looking at a slide, tissue, and saying, 'I know what this is and what caused it.'"
It's the "detective work" that drives Johnson who explained that the community helps each other by providing information to help get to the right answer. He calls pathologists medical detectives, assisting in all areas of medical care, diagnosis and research.
"It's a privilege to provide that to patients," he added. "Pathologists play a big role in that; they touch someone's life."

Johnson said he feels blessed for earning the award and will use the opportunity to grow his knowledge and background in pathology as a medical student at MSUCOM, during clinicals, and then through residency and beyond.
MSU students in both COM and CHM interested in pathology may reach out to Dr. Kowalski or any of the Pathology Interest Group members to get connected. Learn more about opportunities or get involved by following the Pathology Interest Group on Twitter and the Facebook MSU CHM-COM Pathology Interest Group.