A community art exhibit led by Michigan State University AgeAlive, in the College of Osteopathic Medicine, is coming to campus to commemorate the third anniversary of COVID-19, remember its victims, honor essential workers and celebrate life moving forward. This exhibit also now takes on new meaning in the aftermath of the recent violence our community experienced.
Four thousand vibrant, unique butterflies with optimistic colors and individualized messages make up the whimsical sight you will see when you step into the MSU AgeAlive paper butterfly garden at the MSU International Center.
The garden exhibit is a tangible, public reflection of the core values of MSU AgeAlive, whose goal is to promote health and well-being among all people through beauty, healing arts and fostering a sense of belonging, community and engagement in meaningful activities.
Starting March 13, paper butterflies, all of which are painted, folded and tied by hundreds of campus and community members at butterfly-making sessions over the past year, will fill the main level of the International Center. These awe-inspiring gardens are designed and installed by artist-in-residence Zahrah Resh, who makes the flowers from hand-dyed coffee filters.
"My role is to create art project opportunities that further the AgeAlive mission and are fun and accessible to all members of the community," said Resh. "These projects should allow participants of any skill level to share in the joy and life-enriching opportunities of creating art."
MSU AgeAlive has hosted multiple garden exhibits across campus and in the greater Lansing area. The upcoming exhibit at the International Center is in partnership with the Michigan State University Asian Studies Center Japan Council and carried out by a team of dedicated members, including Mariko Kawaguchi, Japanese language instructor in the Japanese Studies Program. All are invited to the opening reception at 5 p.m., March 16 at the International Center.
"This particular garden commemorates three years of COVID-19 — remembering the people lost to the pandemic and all of the essential workers who have worked to keep everything going, and to celebrate emerging from it with hope for a brighter future," said Clare Luz, Ph.D., associate professor in the Department of Family and Community Medicine and founding director of MSU AgeAlive.
About MSU AgeAlive
AgeAlive is a program within the MSU Department of Family and Community Medicine dedicated to building a cohesive, university-wide aging unit and communication network. It aims to connect scholarship, programs and initiatives that share a common goal of increasing respect, well-being and quality of life across the lifespan.
The program began in 2012, led by Dr. Luz and Barbara Sawyer-Koch, with the goal of increasing attention on major issues resulting from the rapidly aging population. It strives to advance the university's commitment to diversity, inclusivity and improving the lives of individuals and communities across the state and worldwide.
Dr. Luz and Sawyer-Koch invited people on-campus and in the community to join the conversation about aging. Efforts focused on elevating aging-related research, teaching and outreach across MSU and the community, said Dr. Luz. In 2016, Michigan State University College of Osteopathic Medicine (MSUCOM) provided AgeAlive with an institutional home, and the organization has since flourished.

AgeAlive now offers a wide range of programs and services to benefit Michigan residents, including a lecture series, annual awards ceremony, annual research forum and the Senior Ambassadors Program. The team is also helping lead efforts to establish a Lifelong Learning Institute at MSU.

In addition to helping MSU become designated as an Age-Friendly University — which is an internationally recognized mark of distinction — Dr. Luz and community partners, City of East Lansing Prime Time Seniors Program, received the 2023 MSU Distinguished Partnership Award for Community-Engaged Service from MSU Outreach and Engagement.
Meeting the comprehensive needs of an aging population
The rapidly aging population is "one of the most consequential demographic shifts of our time," Dr. Luz said, adding it has wide-ranging implications for all ages. It affects economy, health systems, housing, transportation and many other aspects of society. By 2050, it is estimated that the number of adults over age 60 will double and those over age 80 will triple, according to the World Health Organization.
As life expectancy increases, the incidence of chronic diseases and demand for long-term health services also grow. Dr. Luz explains that older adults make substantial contributions to society through employment, volunteering and active involvement in their families and communities.
Universities have a unique role in their relationships to the health of all people locally and globally. The AgeAlive team and mission closely align with MSUCOM's values around comprehensive care at every stage of an individual's life.
"MSUCOM's partnership with AgeAlive reflects the university's commitment to addressing major societal issues that have an impact on our individual and collective health," said Dr. Luz. "It has also elevated MSU's stature as a university that values and enriches the lives of people of all ages."
This collaboration between MSUCOM and AgeAlive helps emphasize "the art of healing and healing through the arts," she said.
Art fosters sense of community and well-being
Participants in the butterfly-making sessions are enthusiastic about contributing to a community project that will "bring joy to thousands of people," said Dr. Luz. "They understand that the butterflies represent hope, transformation and resili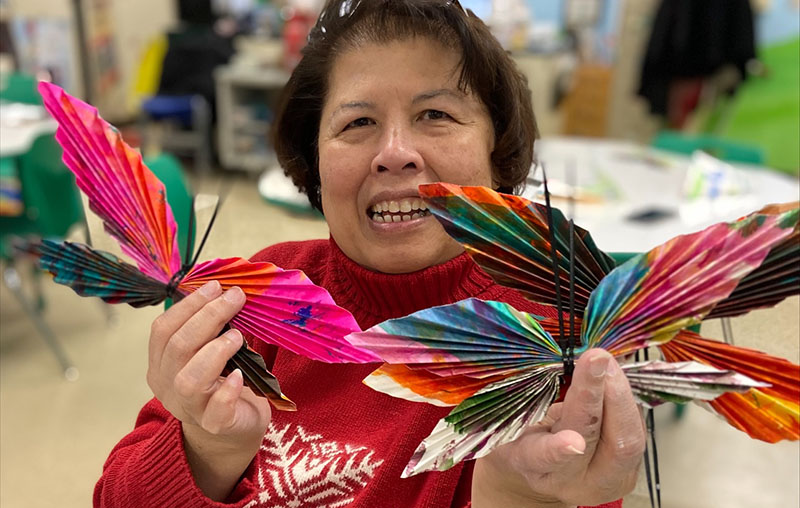 ence. Each butterfly is different, but together they create beautiful, healing spaces."
It also promotes a deeper connection to community, Resh said. "It generates storytelling and sharing of ideas, opinions and experiences, which leads to friendship, embracing our differences, empathy, sharing of knowledge and goodwill toward others."
Get involved
Learn more about the butterfly gardens, view the virtual garden photo gallery, or submit a photo of your butterfly creation!
To learn more about AgeAlive, join the email list, donate or volunteer, please visit AgeAlive.org.