SpartanDO Expert Take 2020-08
August 13, 2020
This month we feature Peter Gulick, DO, a professor of medicine in the department of medical specialties. He also holds positions as the co-director of the MSU Internal Medicine Residency program in East Lansing and the director of HIV/ Hepatitis Services at Ingham County Health Department. He specializes in infectious disease and HIV. Learn more about Dr. Gulick.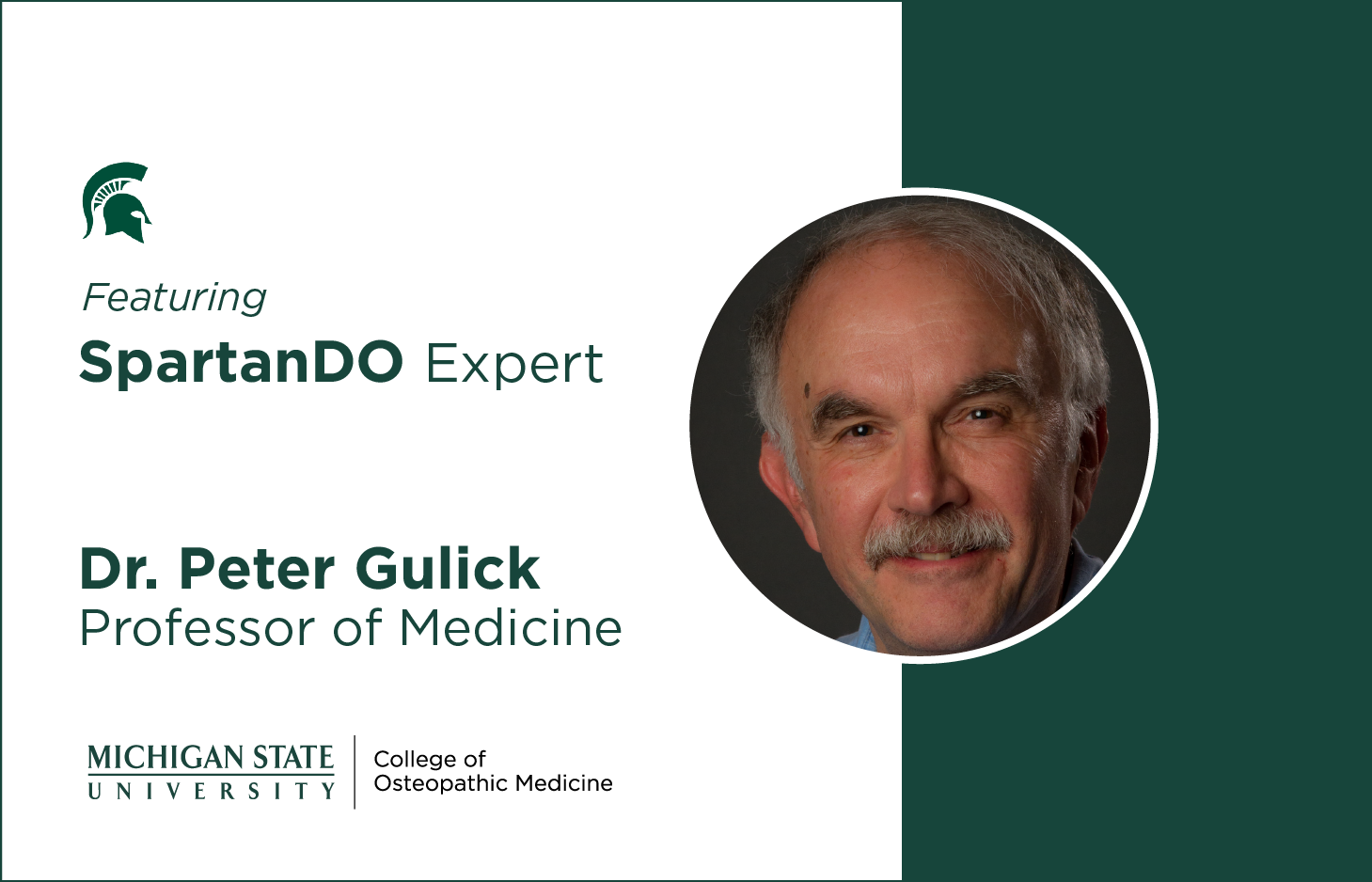 "We don't have a treatment. All we have is prevention."
Infectious disease expert Peter Gulick weighs in on the importance of COVID-19 non-confrontational peer education and personal responsibility this school year.
As MSU begins a new academic year in the midst of an ongoing global pandemic, we consulted infectious disease expert Dr. Peter Gulick on back-to-school health safety.
Model personal responsibility
As medical students, College of Osteopathic Medicine students must serve as role models to others on campus in engaging in safe health behaviors. Dr. Gulick's recommendations follow MSU's Community Compact and Together We Will recommendations for students to take personal responsibility to protect the health and well-being of fellow Spartans and our communities by participating in wearing a face covering, washing hands, physical distancing, self-monitoring and staying home if you feel sick. "[COVID-19] is one of the scariest things I've ever seen in my career," he reflects, and emphasizes the importance of personal responsibility because, "We don't have a treatment. All we have is prevention."
Until there is a vaccine—which Dean Amalfitano says could be administered as soon as March 2021, though there are no guarantees—it's going to take every Spartan taking this seriously and being careful. Another easy action students can take is to get the flu vaccine early to prevent a dual infection of flu and COVID-19.
Educate peers through a non-confrontational approach
"The main way we can control the spread is to educate people on the facts of the disease—on how it's spread, on its potential severity, and on ways we can control it," Gulick advises. Unfortunately, in some cases educating others and serving as a role model has led to violent reactions to mask enforcement. How can medical students serve as role models while protecting their personal safety?
Gulick recommends talking to others one-on-one in a socially distanced manner, using a non-confrontational approach. Instead of telling them to put their mask on right away, "Provide examples of the severity of the illness and easy safety measures they can take: stress face masks, staying six feet apart, proper hand-washing, and isolating themselves if they feel ill." Choose a neutral setting where they feel comfortable and will be more open to discussion.
"The main way we can control the spread is to educate people on the facts of the disease"Remind them that "we all want to get back to normal, but unfortunately, we're just not there yet. Ask them how they would feel if they were responsible for the death of a parent or grandparent that they infected while asymptomatic. Remind them that even young people have died or been severely mutilated by [this disease], including suffering chronic long-term problems and condition relapses."
"The more you can give them information and dispel misconceptions, the more they'll accept it," he states. Pulling from his extensive work in raising community awareness during the HIV epidemic, Gulick is confident that opening up dialogue where the other person can ask questions and receive education without judgment is effective.
Create a feedback loop to improve rapidly-changing guidelines and policies
Treating COVID-19 has led to global scientific collaboration on a scale and speed never seen before. As we learn more about the underlying disease—and as cases rise and fall in different geographic areas—guidelines and procedures will change quickly. To share feedback on any guidelines that might need to be updated, Gulick advises contacting the task force issuing guidelines—on campus, that would be the MSU COVID-19 Reopening Task Force.
Technological advances in testing provide hope for the future
Gulick is hopeful that rapid testing—saliva, oral, or nasal swabs that look for COVID-19 antigens and that can be administered quickly, easily, and painlessly—could yield results back in minutes or hours, similar to a pregnancy test. Rapid testing, along with pooled testing strategies—where groups of samples are tested all at once and only tested individually if there is a positive among the group—could speed up test results, helping to slow the spread, and reduce the need for everyone to quarantine for 14 days.
Lastly, take care of yourself
Recognizing the added pressures of the pandemic on an already high-pressure situation for medical students, Gulick ended with a final message to all SpartanDO students and alumni: "Take care of your mental health. Take breaks, exercise, eat healthy. If you need help, get it immediately. Talk to people, talk your way through it. You are the next generation of healthcare providers and you have to be mentally and physically healthy."
Mental health treatment and suicide prevention resources
If you have suicidal ideations, "Don't wait, don't try to ride it out," Dr. Magen urges. Call or text your local suicide hotline or the National Suicide Prevention Lifeline at 1-800-273-8255 for immediate support.
Contact your local community mental health center.
Seek out telehealth options: many mental health providers are offering telehealth visits during the pandemic to expand access to treatment and care.
Psychiatry services through MSU's Department of Psychiatry are available for adults, adolescents, children, college students, young adults, and the elderly with a wide variety of mental health disorders.
Current MSU students can access campus Counseling and Psychiatric Services.
Current MSU employees can find additional resources through the Employee Assistance Program.
---
Have a suggestion for an upcoming blog post you'd like to see? Submit it to robin905@msu.edu.