SpartanDO Expert Take 2020-10
October 2020
This blog post features Matthew Mayeda, OMS-IV and National Vice President, Speaker of the House at Student Osteopathic Medical Association.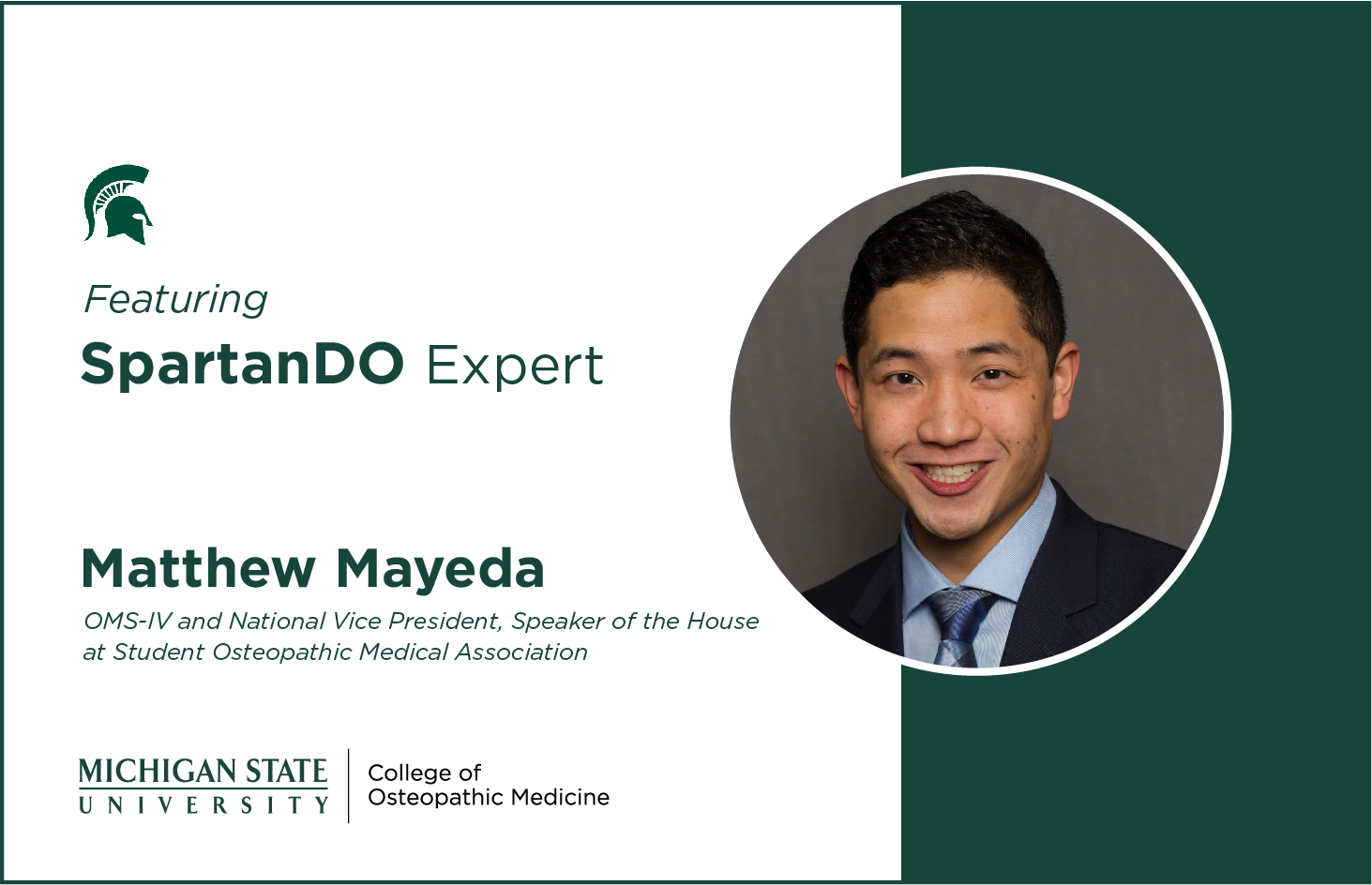 Create Change Beyond Hospital Walls
A call to medical students to improve social determinants of health through voting and policy advocacy
When it comes to impacting health, Matthew Mayeda, OMS-IV, is a big advocate of policy. As the current National Vice President and Speaker of the House for the Student Osteopathic Medical Association, he's already passed a "Recognizing Food Insecurity as a Public Health Issue" resolution at the 2019 American Osteopathic Association (AOA) House of Delegates. This policy enables the osteopathic profession to work on food insecurity issues to ensure that no child goes hungry. "Students can improve health and save lives through policy. There's a lot you can do to help communities right now," he proclaims. To inspire those concerned about taking on additional work on top of an already-intense medical school schedule, he says, "There are unique opportunities at each stage of life. Right now we have the opportunity to improve systems and impact the medical profession."
"Students can improve health and save lives through policy. There's a lot you can do to help communities right now."
Taking action against injustices
As the grandson of immigrants and rural farmworkers, Matthew has seen firsthand the health disparities that exist in underserved areas—and the many injustices that result from inequitable access to good health care and services that promote wellness. One issue in particular that Matthew is championing is food insecurity—a deeply personal issue for him because his grandfather grew up lacking access to nutritious food.
That throughline of solving injustices—of improving the social determinants of health such as access to healthy food, safe spaces to exercise, and preventative health care—has driven Matthew his entire career. After receiving a Masters in Public Health from the University of California at Davis to better understand how to influence population health, he went on to medical school "to help patients holistically with their lives through advocacy and preventative medicine."
Drawing on his public health training, he's already supporting patients outside of the hospital. As the former president of MSUCOM SOMA, he organized the college's first participation in Lansing Lobby Day around issues meaningful to students. Now at the national level, he empowers medical students to lead by enacting policy that can bring about broader change.
Matthew urges all medical students and physicians to look for ways they can make a bigger impact on their patients' lives. He believes doctors can and should use their voice to help patients outside of the hospital, to advocate for improvements to social determinants of health and promote opportunities for diversity, equity, and inclusion. He encourages everyone—especially students—to continue to build their leadership skills, and to take advantage of student organizations as a safe place to develop and hone these skills.
The importance of self-care and pursuing your passion
Matthew emphasizes the importance of balancing work with caring for yourself: "Self-care ensures you have the reserve you need to take care of others later on. It's an important skill to practice and build now." To promote wellness among medical students, he established the first-ever Wellness Task Force within national SOMA. As part of this work, he partnered with The Council of Osteopathic Student Government Presidents (COSGP) and SpartanDO faculty Dr. Miko Rose on a "Joy Initiative" that offers daily meditation practices and a safe space to turn while coping with the isolation, stress and anxiety of the pandemic.
In closing, Matthew recommends that students and doctors "see how you can apply your passions to create change. We take this oath to take care of individuals. One way to do that is to look at the systems that affect our patients beyond hospital walls. You can create a big impact—voting is a large part of that at the national and local level."
---
Have a suggestion for an upcoming blog post you'd like to see? Submit it to robin905@msu.edu.