SpartanDO Expert Take 2021-03
March 2021
Sarah Weitz, M.S., R.D., is the administrative director of the Macomb University Center campus of MSUCOM. A faculty member since 2010, she also delivers nutrition content throughout the curriculum, and serves as an instructor in the Histology and Pathology laboratories.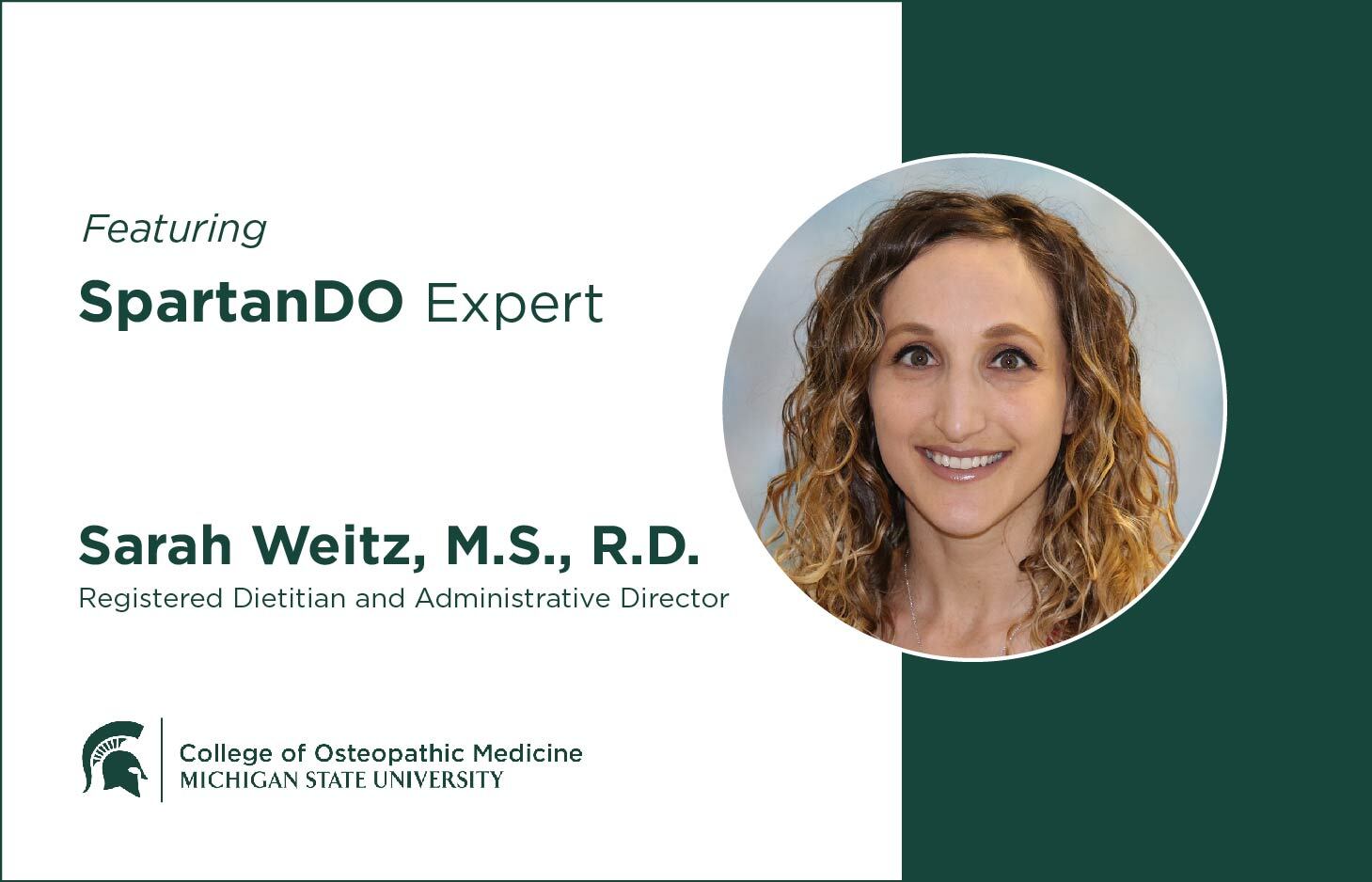 The Role of Nutrition in the White Coat Journey
Celebrating Nutrition Month with Registered Dietitian Sarah Weitz
One year into the pandemic, nutritional patterns look wildly different for many of us. What started with everyone baking sourdough and trying the Dalgona coffee challenge eventually turned into millions of families slipping into poverty and relying on food banks. While some people found more time at home an opportunity to cook more, others juggling work and childcare turned to processed, ready-to-eat foods and delivery.
To explain the role of nutrition in health in recognition of Nutrition Month, we sat down with registered dietitian Sarah Weitz, the administrative director of the Macomb University Center campus. "Eating meets emotional needs as much as nutritional needs, and we've really been leaning on that during the pandemic," Weitz observes. "Even our best plans to eat healthy have gone out the window. But now we can be more aware of nutritional content again." The energetic and enthusiastic researcher-turned-lecturer goes on to explain the integral role of nutrition in health, how physicians can better support nutritional health and easy action steps to start eating healthier now—and for good.
Nutrition in health
Nutrition is a core tenet of osteopathic wellness because it's involved at every level of body functioning, as well as how we interact with our environments and other people: "Eating is so much more than nutrients to stay alive—it plays a big emotional and social role," she says. "You can't separate nutrition from bodily health when it's so integral to the function of the body and mind."
Many specialties deal with nutrition on a daily basis, and nutrition is integral to healing—an issue may be resolved medically, and the physician can address healing and continued wellness with nutrition. "We don't teach enough about nutrition considering how prevalent it is in everyday practice," Weitz comments.
Improving nutrition in patients: connections to resources and addressing behavior
According to Weitz, another key reason physicians should focus on nutrition in patient health (and your own health) is because "Nutrition is a lifespan behavior—you always have to be eating." Weitz encourages physicians to devote more time to address nutrition and refer patients to resources to take control of their nutritional health. "Physicians can improve patient and community health by knowing what resources are available and connecting them to the resources they need, such as food banks, social service supports, financial support or nutrition counseling," Weitz says. A good place to start is eatright.org, which offers resources for professionals and lay people.
While in school, SpartanDO students can model good nutritional behavior by having open and honest conversations about healthy eating and acting as a source of support for friends and family. Students can also join efforts to combat food insecurity such as through Give Healthy or by organizing food drives through student groups they're involved with. The MSU Student Food Bank, 211, or the Student Public Health Association are also good local resources.
Don't scramble to figure out what you're eating—that often leads to spending more time and getting less nutritionally healthy resultsWeitz also emphasizes the importance of a holistic view of nutrition. While the biochemical portion of nutrition is covered in medical school curriculum, Weitz points to the human behavior component that physicians can impact by having honest conversations with patients.
As a certified culinary medicine specialist herself, Weitz recommends the program to those eager to learn more about using food as medicine. Armed with culinary techniques and ample nutritional knowledge, certified specialists can better support the needs of individual patients by guiding a nutrition plan that takes into account preferences, allergies, and budget and time constraints.
Ditch your "all-or-nothing" mentality: tips to eating healthy
Time management is a big barrier for medical students, and nutritional health and even basic eating can easily fall off for students. Weitz's solution: meal plan! "Don't scramble to figure out what you're eating—that often leads to spending more time and getting less nutritionally healthy results," she says. "Just devote some time to meal planning—it doesn't have to be for every day or for a specific diet plan. Meal planning helps to reduce the day-to-day mental burden, making it easier to make better choices."
Another meal planning tip: find ways to cook once and turn leftovers into several different dishes to mix things up, such as roasting a chicken and using leftovers in tacos or a salad on following nights. "It takes practice," she says.
"Eating has to be a lifelong pattern," she explains. "You've got to eat, so try to eat well. It's OK if you don't eat great every now and then," she says. "Look at your pattern of eating over life," rather than a daily or weekly snapshot.
"Many of us have an all-or-nothing mentality—'If I can't eat well all the time then I won't'—but instead just try to eat healthy most of the time! And start by replacing one meal a week," she suggests.
"There's no one-size-fits-all diet for everybody—it's about finding what works for you or your patient!" Weitz advises.
If you're ready and interested in taking these steps, Weitz suggests you "treat this like a major lifestyle change with small, steady steps. Gradual incorporation becomes a habit, a regular part of your life. Big change probably won't be sustainable. Give yourself time to see what you like and don't love."
---
Have a suggestion for an upcoming blog post you'd like to see? Submit it to robin905@msu.edu.