SpartanDO Expert Take 2022-03
March 2022
I didn't match. What now?
SpartanDO Director of Academic and Career Advising shares tips and resources for unmatched medical students.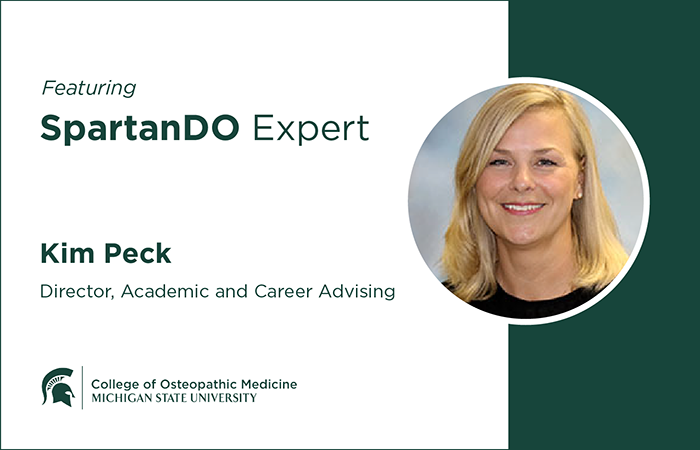 Excitement and anticipation are building for Match Day, which falls on Friday, March 18 this year.
Four years of medical school—and the many years leading up to this #WhiteCoatJourney—culminate on Match Day, the milestone event where student physicians find out where they will spend their residencies. Match Week is often emotional for students and their families—they might be making big life transitions by moving to another state, they might not match with their number one program, or for a few, they might not match with any program during the regular match.
"It's nothing to be ashamed of," says Kim Peck, MSU College of Osteopathic Medicine's Director of Academic and Career Advising. "The match is increasingly competitive each year and there are a variety of reasons you may not match." For those students who don't initially match, Peck outlines tips and resources available to support students in finding a match or another best-fit path.
"Not matching is nothing to be ashamed of. The match is increasingly competitive each year and there are a variety of reasons you may not match."
Tip 1: Plan ahead
Communicate with your career advisor ahead of time, especially to share feedback about how your interviews went. There may be tasks they recommend completing before Match Week, they can help you better prepare for the Supplemental Offer and Acceptance Program (SOAP) week applications if needed, and provide customized support and advice.
Have discussions with your partner or family ahead of time to discuss where you're comfortable moving and if you might need to switch residency program tracks. "You want to make these big life decisions while in a good headspace," Peck advises.
If you think you might not match, proactively talk to your attending to ask for scheduled time off from rotations during SOAP week. Things move quickly, and you'll need dedicated time to be proactive. Most attendings are understanding and will support you in your match process.
Tip 2: Lean on your support network
Talk about your situation and how you're feeling with trusted friends and family. Don't isolate yourself while you're processing and planning your next steps.
Tip 3: Tap into the college's personal counseling and wellness team
The college's personal counseling and wellness services are available, and are ready to support you during this time. It can help to talk to people familiar with the match process and ensuing emotions.
Tip 4: Be proactive during SOAP week
If you find out on Monday of Match Week that you didn't match, be proactive in contacting your career advisor to get ready to figure out next steps. Your advisor will support you in getting you ready for SOAP, which matches unfilled residency program positions with unmatched or partially matched applicants during Match Week. Follow this link to view the 2022 Match Week & SOAP schedule. While the process begins Monday, March 14, all rounds of SOAP take place on Thursday, March 17 and your career advisor will help you to prepare for each additional match round, if needed.
Preparing for SOAP might include:
Tip 5: Take advantage of career advisor resources
Career advisors provide an array of additional resources for unmatched students:
Leads from classmates: Career advisors email matched students to ask for leads about unfilled positions in their programs. "Every year we get a few leads from the matched students," explains Peck. "Kudos to those students who take the time to look out for their colleagues. It shows the collegiality of the group."
Mentors: Career advisors bring in residents who have gone through the SOAP process to talk about their experience.
Pre-residency fellowships or master's degree: For very competitive residencies, doing research and getting more experience in your specialty might be a better route than going through SOAP. Some students will pursue a pre-residency fellowship to gain more specialty-specific experience. For others, pursuing a master's degree may be a good option. A career advisor can best advise you on your next step, including connecting you to a non-clinical path if you decide that's the best path for you.
Specialty-specific websites: Career advisors have lists of these websites as an additional resource post-SOAP.
Off-cycle opportunities: Career advisors will continue to send you opportunities, such as new programs who may take residents off-cycle. Career advisors are here to help, even if you plan to match in a future cycle.
Peck's main takeaway for students is, "Reach out to your career advisor! MSUCOM has an overall 98-99% annual average match rate. If you work with your advisor and mentors and are proactive and take advantage of the resources available you'll increase your likelihood of finding a match." She emphasizes that all of SpartanDO's career advisors block off their schedules during Match Week to support students to help them find a match or determine the best next step in their career.
"We'll work with you to provide you with the resources and support you need through this taxing process," she says.
Good luck to the Class of 2022! Your SpartanDO community is here to cheer you on and support you!