SpartanDO Expert Take 2022-09
September 2022
Monkeypox, COVID-19, flu — how do I stay healthy this fall?
Infectious disease expert Peter Gulick, D.O., provides insight on the emergence of monkeypox and the importance of immunization this fall.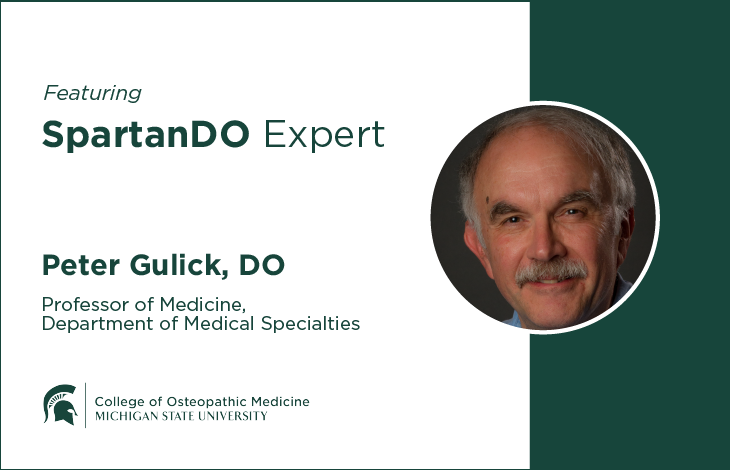 With students back in classrooms for the new school year, there is heightened concern around staying healthy amid the existence of influenza and COVID-19, and the re-emergence of diseases like monkeypox and polio. The swirl of potential health challenges also comes at a time when many masking and social distancing guidelines have been relaxed.
Peter Gulick, D.O., board certified internist with sub-specialties in medical oncology and infectious diseases, urges people to catch up on preventive care and vaccinations they may have neglected due to COVID-19 as we enter the back-to-school season. "Vaccines are proven safe and effective methods of protecting yourself and others — especially with the growing percentage of people who are immunosuppressed due to factors, such as chemotherapy treatment, organ transplants and autoimmune diseases," Dr. Gulick said.
For example, inflammatory bowel disease (IBD) is treated with drugs that suppress the immune system to control inflammation. This immunosuppression makes it more difficult for patients' bodies to clear the virus, allowing it to mutate into a new strain — as we have seen with COVID-19 and influenza each year. Immunization helps protect current and future generations by eradicating diseases, so they cannot be transmitted and genetically mutated.
"Communities with effective vaccine control have fewer outbreaks than areas without effective vaccine control," Dr. Gulick said. "Even if an individual gets infected but does not show symptoms, they may pass it to a parent, grandparent or child whose immune system cannot fight it off, which may lead to hospitalization or death."
Up-to-date vaccines become more critical as we see diseases like monkeypox re-emerge
Monkeypox, which was first detected in 1958 in monkeys and 1970 in humans, has infected thousands of people across the U.S. since its recent detection in May 2022. Because it has been transmitted between animals and humans — allowing it to mutate in the environment — it is likely to be around for a while, explained Dr. Gulick.
"Vaccines are proven safe and effective methods of protecting yourself and others — especially with the growing percentage of people who are immunosuppressed.Its morbidity is less than COVID-19, but its mortality is still concerning, especially for immunocompromised individuals. It can cause painful skin lesions, fever, chills, bacterial infections and other symptoms that can last two-four weeks. Dr. Gulick notes that its transmission methods are concerning for K-12 schools and universities heading back to class. Monkeypox is most commonly contracted orally through respiratory secretions — such as kissing and sharing drinks — and through close physical contact — such as touching clothing, bedding or towels, or playing contact sports. It is undetermined how long the virus can live on fomites.
"The best method for preventing monkeypox is vaccination, and we are vaccinating high-risk groups now," Dr. Gulick said. The monkeypox vaccine, which is the same as the smallpox JYNNEOS™ vaccine, is now available nationwide in limited supply for high-risk groups. He recommends talking to your health care provider to understand your risk for monkeypox.
Dr. Gulick said other prevention methods are being explored to complement the monkeypox vaccine, including educating communities on risk factors, training providers to diagnose monkeypox correctly, and potentially providing a limited oral antiviral to patients with severe outbreaks.
Much like COVID-19 and influenza, monkeypox is not limited to any specific population — it has been detected in men and women of all ages and demographics, making the vaccine even more integral. Although some illnesses are associated with cold weather regions where people gather indoors with poor ventilation, Dr. Gulick instead emphasizes the need to focus on high-risk groups for each disease. Populations that experienced the highest hospitalizations and deaths from COVID-19 were those with comorbidities like hypertension, diabetes and obesity, in both warm and cold weather regions.
Osteopathic approach to preventive care
Preventive care and management of existing conditions will continue to be vital this fall and beyond, and it is more cost-effective than treating preventable illnesses retroactively. The whole-patient, osteopathic approach to care includes controlling disease, as well as considering how a patient's mental health, socioeconomic status, lifestyle habits and other factors may be impairing their physical health.
Dr. Gulick encourages medical providers and students to be proactive in educating patients and promoting immunization to protect themselves, their families and their communities.
"We want to prevent diseases — not just treat them — and immunization can help us do that," he said.
Resources for immunization