SpartanDO Expert Take 2023-09
September 2023
Recognizing Suicide Prevention Month
Dr. Farha Abbasi shares mental health and wellness tips for the new school year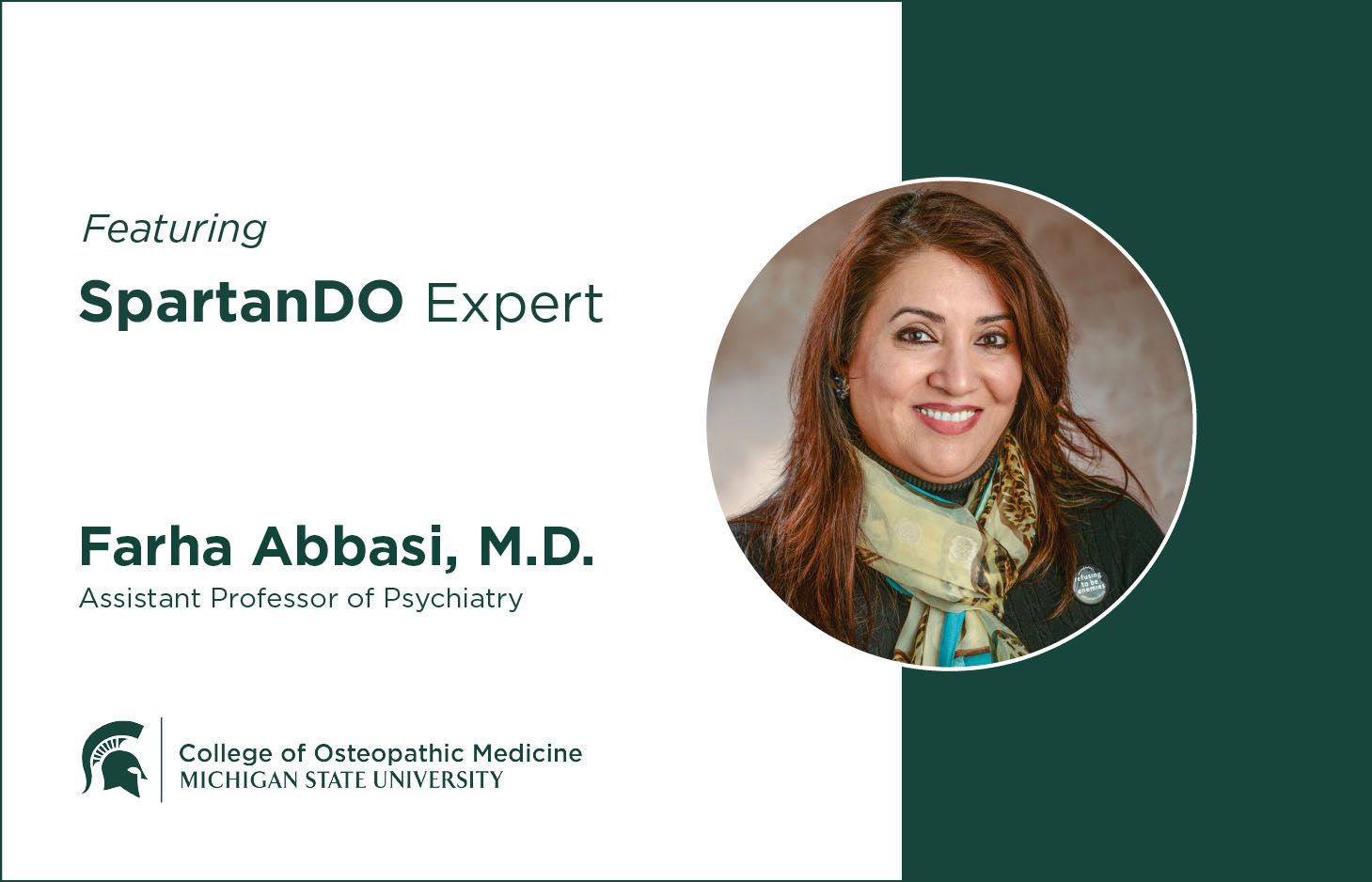 If you or someone you know is thinking about ending their life, get help immediately. Go to the nearest emergency room or call or text the Suicide & Crisis Lifeline at 988 for immediate support.
---
The school year is underway and MSU's campuses are buzzing with the energy of a new semester. With all the excitement also comes new life changes, stressors and expectations that may affect an individual's mental health and overall wellness.
September is Suicide Prevention Month, a time to raise awareness and promote actions that can heal, help and give hope, according to the 988 Suicide & Crisis Lifeline. Farha Abbasi, M.D., assistant professor in the Department of Psychiatry at Michigan State University's College of Osteopathic Medicine (MSUCOM), explains that suicide is preventable, but it is not a personal failing. "It is often an act of despair or escape from intolerable pain, loneliness and alienation, but it is a permanent solution to a temporary problem," she said.
Dr. Abbasi encourages others to talk openly about these thoughts with friends, family, teachers and counselors. "Never feel ashamed to acknowledge mental health concerns before it is too late to intervene. Stigma is still the biggest barrier to timely access to care, but early intervention can yield better outcomes."
Dr. Abbasi offers these tips for navigating the start of the school year:
Stick to structure
The start of a semester marks a new beginning and a new opportunity to do well, but once the initial excitement subsides and social activities slow down, reality can hit hard, Dr. Abbasi said. "Too many credits, hard classes, financial burdens and family and relationship issues can all start to take a toll, and it is imperative to stick to structured care routines so new stressors are not as overwhelming."
Structure may include getting adequate sleep, exercising regularly and eating healthy, which can all help ward off feelings of depression and anxiety. Moderation in the use of caffeine, alcohol or any substances that can impact your focus or attention is also helpful for staying in a routine.
Create a supportive network
"Staving off isolation is very important," she said. "The ability to communicate is an essential survival skill."
To do so, it is key to create a supportive, reliable network of people. This can include finding people with similar interests, such as through clubs and organizations, finding spiritual/religious outlets or seeking professional help with a counselor.
"Spotting indicators of distress is a challenge because there are no clear-cut tests or diagnoses for suicidal risk, but there are warning signs," Dr. Abbasi said. For you and your loved ones, it is important to note sudden changes in behavior, such as irritability, isolation, impulsivity, failure to show up for classes, using/abusing substances, or spending money excessively. Other severe behaviors may include fast driving, gambling, buying guns or having access to firearms, bullying/harassment, sexual exploitation or getting into fights or other legal situations.
"Staving off isolation is very important. The ability to communicate is an essential survival skill."If you notice any of these erratic behaviors, do not hesitate to point them out and have an empathic, candid conversation, Dr. Abbasi urges. "Remember it's about them and not about your fear or anxiety surrounding the situation. Encourage them to seek care. Have a low threshold to let someone know you are concerned."
Press the pause button
Dr. Abbasi recommends taking intentional mental health breaks throughout the day to break up studying and socializing. She also says many students find it useful to practice mindfulness, like gratitude and meditation, and spirituality or religion to stay grounded.
Taking time to pause and reflect can also help you identify patterns in your emotions and behavior. Have you been sadder than usual? Have you been sleeping more? Focusing less? Changes in sleep, attention, eating and energy all could indicate a need to slow down, Dr. Abbasi said.
Pausing a task and breaking it down into smaller, doable actions can also be helpful. "Anxiety can be paralyzing — it's high in intensity but low in probability. How many times do things that you worry about happening actually happen? Focusing on what is controllable is helpful for breaking down anxious thoughts."
"Failing is not failure. You are not a GPA number. If you are healthy and doing well there will be other opportunities to do well and amend shortcomings."
Know your resources
Learn about the hotlines and telehealth/teletherapy options available — many are on campus or offer virtual options.
Practice the five Es
For osteopathic medical students and medical professionals, Dr. Abbasi recommends practicing the five Es to deliver compassionate, patient-centered care:
Empathy: Instead of telling patients what to do, it is crucial to listen without judgment. Instead of approaching issues with "what is wrong with you?" physicians should instead ask "what wrong has happened to you?" It is also important to practice empathy to self while navigating medical school or a medical career — this includes being kind to yourself and being cognizant of fatigue and burnout.
Educate: Early intervention can lead to successful outcomes. Educating yourself, your peers and your patients about stress management, meditation and other wellness practices could be lifesaving. Avoidance, feeling ashamed and keeping silent is not helpful, and can lead to crises and disastrous consequences.
Empower: Validating patients' trauma and experiences while helping them cope with their pain may not only save their life, but also helps you provide them with better care. Being an inclusive, trauma-informed physician can help foster a sense of trust and safety with patients.
Engage: Spending time with patients and getting to know them as individuals will also foster a sense of trust, and help you deliver a more holistic treatment plan.
Expedite: When concerns arise, quickly mobilizing resources and expediting treatment is critical.
---
About Dr. Abbasi
Dr. Farha Abbasi is an assistant professor in the Department of Psychiatry at Michigan State University and core faculty member of the Muslim Studies Program. Dr. Abbasi was recently elected to be an executive committee member for the World Psychiatric Association (WPA) Section on Religion, Spirituality and Psychiatry (SRSP). The WPA is the global association representing 145 psychiatric societies in 121 countries and bringing together more than 250,000 psychiatrists.
"It is a true honor to win this position and represent Michigan State University globally," she said. "The growing burden of mental illnesses, shrinking resources, and lack of mental health infrastructure all deeply concern me. This would give me exposure and an opportunity to work on these issues."
She has spent the last 15 years of her career promoting a model of faith-based mental health and addressing the cracks in mental health policy worldwide. Dr. Abbasi's extensive work with Muslim mental health — through research, conferences, the Journal of Muslim Mental Health and more — represents a monumental contribution to the field.
"It is validating and gratifying to know that the vision I had 16 years ago is coming to fruition," she said. "The WPA will give me a bigger landscape to implement some of the models that I have developed, and I can only do it as MSU gives me the ground to stand on and launch these projects."
She looks forward to representing MSUCOM on a global stage and continuing the university's leadership in the field of Muslim mental health.