Terrie Taylor, D.O.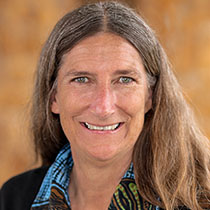 Osteopathic Medical Specialties
Faculty
East Lansing
West Fee Hall
909 Wilson Rd., Room B309B
East Lansing , MI 48824
A native of Traverse City, Michigan, Dr. Taylor lives and works in the small African country of Malawi for 6 months (January - June) each year. While there, she helps to coordinate elective experiences for 24 COM and CHM students (3 six-week blocks of 8 students each); the students and Dr. Taylor share the "MSU House", conveniently located within walking distance of the Queen Elizabeth Central Hospital in Blantyre. Dr. Taylor's clinical research focuses on the pathogenesis of pediatric cerebral malaria; she is also involved in field-based studies of malaria epidemiology.
The children hospitalized on the Paediatric Research Ward in Blantyre are the most exhaustively characterized cerebral malaria patients in the world.
In early 2018, we started an interventional clinical trial comparing immediate hyperventilation or hypertonic saline to usual care in Malawian children with CM and increased brain volume. We hope that this study will support other investigations into the etiology of increased brain volume in this patient population.