Andrea Amalfitano, Ph.D., D.O.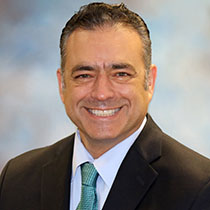 Faculty
East Lansing
East Fee Hall
965 Wilson Rd., Room A309
East Lansing, MI 48824
Dr. Andrea Amalfitano earned a bachelor of science in microbiology in 1984 and a Ph.D. in microbiology in 1989, both from Michigan State University. He earned his Doctor of Osteopathic Medicine, or D.O., medical degree in 1990 from MSU College of Osteopathic Medicine's D.O./Ph.D. dual-degree program.
Prior to joining MSU in 2005, he served as an associate professor at Duke University in the Department of Pediatrics and the Department of Pathology, Molecular Genetics and Microbiology.
Amalfitano is a board certified clinical geneticist and a trained classical research scientist. His research focuses on determining the feasibility of cutting-edge therapeutics, including gene transfer, to treat both acquired and genetic diseases and then translating that knowledge into the clinical realm. His scholarly efforts in both clinical medicine and applied genetics have led to the development of innovative treatments for infants, children and adults affected by a variety of diseases, including lethal muscular dystrophies, cancer, autoimmune disorders and autism.