Dean's Update 2022-12
December 20, 2022
As we near the end of the calendar year I want to take this time to celebrate the accomplishments of our college and people over the past year. Looking back, we can clearly see many reasons to celebrate the Michigan State University College of Osteopathic Medicine's accomplishments of 2022.
For example, a $1 million gift from Daniel and Marsha Edson established the Daniel C. and Marsha J. Edson Endowed Professorship in Global Health in honor of Terrie Taylor, D.O., for her internationally recognized work in Malawi to combat the scourge of malaria, and to ensure the work she and MSUCOM are doing there continues far into the future. These and other gifts to the college totaled ~$4.1 million and serve as a tribute to so many of our alumni and friends who routinely support our ongoing mission to be the best osteopathic school in the country. In 2022, the student initiative raised nearly $429,000. This, along with other gifts and investment performance, elevated the market value of the Michigan Osteopathic College Foundation (MOCF) Endowment to approximately $15 million as of Oct. 1, 2022, making this one of the largest endowments at MSU dedicated to student scholarship and support. We will together celebrate this at the 2023 MOCF Ball, and I hope that as many of you as possible can attend our 17th year of the college hosting this event.
Many of our faculty members throughout the year were recognized for their scholarly work with research awards and articles in numerous publications. We also saw our students earn awards and have their work published. You may read more about these in our news section of the MSUCOM website.
MSUCOM Student News
Looking at our graduating class, the class of 2022 achieved an impressive 99% match rate into residency programs, with 76% entering a residency in Michigan. Our college has seen an average 98-99% match rates since I took on the role as dean, with 75-76% of each class staying in Michigan for their residencies.
The success of our students in residency placements – both in-state and out-of-state – is in part due to our Statewide Campus System (SCS) consortium for Graduate Medical Education, a national gem of a program that is bolstered by longstanding partnerships with more than 30 member hospitals and six federally qualified health centers across Michigan. The SCS is an important educational source for the affiliated hospital members in Michigan, providing educational programs and opportunities for pre-doctoral as well as interns, residents and fellows. As a result, most of our graduates entering a Michigan residency enter a MSUCOM-SCS affiliated program.
While we await match day in 2023, we did celebrate our Military Match Day on Dec. 14 in which all five of our students matched into programs across the country – from Florida to Missouri to Texas. Congratulations to all!
In 2022, we had 136 students participate in medical missions abroad to a variety of COM-sponsored sites, including Malawi, Africa; Merida, Mexico; Quito, Peru; and the Dominican Republic, to name a few. These experiences coupled with local programs at our three sites, including our Detroit Street Care, Macomb County Street Medicine, Spartan Street Medicine and Community Integrated Medicine programs, ensure our D.O. students receive a diverse experience in providing osteopathic care early and often during their enrollment here at MSUCOM.
In addition, the college welcomed its first class of students to its Physician Assistant (PA) Medicine Program in May 2022. The PA students have begun their unique curriculum, and as they enter their second semester, we are already beginning the admissions process for the second entering PA class.
College and Profession News
As a college, MSUCOM received re-accreditation through the 2027-2028 academic year by the Commission on Osteopathic College Accreditation (COCA). This was a top priority for me and the college, knowing this effort would also foster the achievement of several major goals set forth in our college's strategic plan. This accreditation certifies the college meets the increasing rigors that the COCA recently implemented to ensure all osteopathic medical schools meet the highest educational standards of the profession.
MSU Health Care (MSUHC) is the clinical enterprise of the university, and the majority of the practitioners in MSUHC are MSUCOM faculty, as well. Looking at the numbers, MSUHC represents 39 specialties and subspecialties, and during this calendar year alone there were over 215,000 visits to our numerous clinics and sites. The expansion of primary care, osteopathic manipulative medicine, gastroenterology and other clinical expertise has been driven by MSUCOM's commitment to the health of the communities it serves.
One of the most exciting accomplishments in 2022 that positively impacted the entire profession of osteopathic medicine was the U.S. Senate's unanimous adoption of a resolution designating April 18-24, 2022, National Osteopathic Medicine Week. This annual observance will be April 17-23 next year. Mark your calendars to join us so we can celebrate together in 2023!
Making a Difference
As we look at our accomplishments over this year, I also want to take a moment to thank each of you – our faculty, staff, students, alumni, partners and friends, for showing respect and dignity to all people – a tenet of the osteopathic philosophy. I have the privilege of witnessing this often in the college, through our faculty, students and partners in our outreach programs, working with some of our most vulnerable populations, in our student organizations that support many worthy causes, and in the classrooms and hallways of MSUCOM where faculty, staff and students demonstrate this in their interactions with others. These are things we may not be able to measure, but we know make a difference in our lives and the lives of others.
Before closing this celebration of 2022, I want to share something that is on our horizon. The college will be providing state-wide and nation-wide impact studies on our overall efforts as an osteopathic medical school in the coming months, impacts that are quite impressive to say the least.
It is always humbling to look back and see all that the college and its people have accomplished. I want to end my Dean's Updates for 2022 with a simple thank you for all you do for MSUCOM and for another incredible year. I look forward to seeing what we will accomplish together in 2023 and the years to come.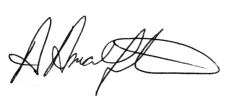 Dean Andrea Amalfitano, D.O., Ph.D.