Two biomedical researchers at Michigan State University have received Catalyst Awards from the Dr. Ralph and Marian Falk Medical Research Trust.
Dr. Robert Abramovitch, associate professor for the Colleges of Veterinary Medicine and Human Medicine and MSU AgBioResearch, and Dr. Karen Liby, professor in the Department of Pharmacology and Toxicology for the College of Osteopathic Medicine, were chosen by MSU to submit proposals. Now, each has been awarded $300,000 to fund their promising drug development projects.
"We would have been blown away if one of them had won, but they both won," says Dr. Richard Neubig, director of MSU Drug Discovery and professor in the Department of Pharmacology and Toxicology. "To have two awards coming to MSU is exciting and validates the efforts of our faculty partners in translational research and therapeutic discovery and development."
Novel Potential for Cancer and More
Liby's Catalyst grant will fund her continued research of MSU-42011, an identified lead compound, with the hope that it will advance to patients. For Liby and her research team, this award is more recognition for their work that studies inflammation in cancer and the development and testing of new drugs to treat or prevent cancer and other chronic diseases.
"It's obviously exciting to get to this stage," Liby says, as she explains there is more to do. "There are still challenges ahead.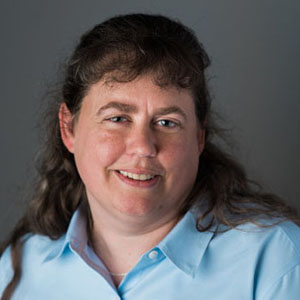 "It's a long process, but I'm hopeful."
For five years, Liby and her co-investigators Dr. Edmund Ellsworth, professor in the Department of Pharmacology and Toxicology and director of the Medicinal Chemistry Facility, and Dr. Ana Mendes Leal, assistant professor in the Department of Pharmacology and Toxicology, have worked on a Retinoid X Receptor (RXR) agonist project. This class of drugs activates the nuclear hormone receptor RXR.
"Targeting nuclear receptors has proven to be a fruitful area of research for cancer treatment," Liby explains.
The new, two-year Catalyst grant gives Liby's team the opportunity to generate proof of concept data for MSU-42011 by studying it in preclinical models of Neurofibromatosis type 1 (NF1), a genetic condition that causes tumors to grow along nerves. They will test the development of the disease in mouse models, first with benign tumors and next with malignant tumors, to see if their intervention is successful.
If MSU-42011 works on NF1, it "provides the rationale for the next steps in the drug development process," Liby says.
These opportunities are possible because of early funding the researchers received from the College of Osteopathic Medicine and the MSU Innovation Center, including the MSU Molecular Discovery Grant, the Innovation Hub MI-Kickstart Award, and the Michigan Translational Research and Commercialization (MTRAC) Innovation Hub Award. Liby says this funding allowed her team to generate the data to justify the NF1 research.
Liby also credits MSU Drug Discovery and Neubig, as well as the infrastructure for supporting drug discovery at MSU, and the "invaluable industry experience" provided by Ellsworth.
"This shows how far people are able to advance drug discovery here at MSU," a major goal of building MSU Drug Discovery, explains Neubig.
Together, Liby, Ellsworth, and Leal formed a start-up company named Akeila Bio to commercialize the technology and patent applications that cover the lead compound MSU-42011 and its use in cancer indications. Patent applications filed by the MSU Innovation Center are currently pending in US and Europe, and Akeila Bio is working closely with the MSU Innovation Center to negotiate a license. In addition, Akeila Bio enables Liby's team to apply for other grants. The Liby Lab is part of the College of Osteopathic Medicine's Applied Immunology Center for Education and Research.
To Stop One of the Greatest Killers
"About every 20 seconds, someone dies of tuberculosis."
Tuberculosis is the world's leading infectious killer; it recently regained its status from COVID-19. Abramovitch and his collaborators will use their Catalyst award money to develop new drugs from a series of compounds they previously discovered in hopes of inhibiting Mycobacterium tuberculosis (Mtb), the bacteria that cause tuberculosis disease.
"That is what the Catalyst award is about," says Abramovitch. "It's a high-risk, high-reward grant to help us overcome a barrier in our research. We have something tha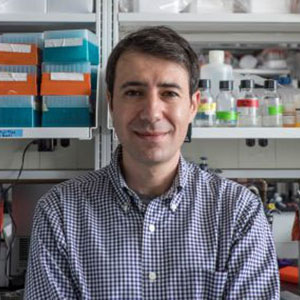 t kills Mtb really well, but it still isn't a drug for use in animals or people, so the funding is hopefully going to help us turn it into a drug."
Compared to most other bacteria, Mtb are unique fortresses. Each bacterium builds its own protective shell—not only to defend itself from its host's immune system, but to control it. The shell is essential for Mtb to cause disease.
To create its protective shell, an Mtb bacterium must first move a molecule—trehalose monomycolate (TMM)—from inside to outside itself so TMM can be incorporated into the shell's building blocks. To move TMM, Mtb uses a transporter called MmpL3.
"Mtb absolutely needs to get TMM from the inside of the bacterial cell to the outside of the cell. If it can't, it dies," says Abramovitch. "The molecules we're working on block that process. The molecules directly bind to the MmpL3 transporter and stop it from working. They inhibit it. TMM gets stuck inside the cell—it can't get out, the bacterium can't build its protective shell, and that directly kills it."
The Abramovitch Laboratory studies the fundamental mechanisms of how Mtb causes tuberculosis to jumpstart the development of new drugs to fight the disease. But Abramovitch is first to point out the necessity of cross-departmental collaboration.
"A big reason this project happened is because of the MSU Drug Discovery organization that Dr. Neubig helped develop here," says Abramovitch. "It really provides us with almost a mini-drug company on campus. We have the people, the facilities, and technology we need to do drug development."
Ellsworth, also profiled in this article, is a co-PI on this project. Other MSU collaborators include Dr. Angela Wilson, John A. Hannah Distinguished Professor, associate dean for Strategic Initiatives, professor of computational chemistry for the College of Natural Science, director of the MSU Center for Quantum Computing, Science, and Engineering, and 2022 president of the American Chemical Society; Dr. Teresa Krieger-Burke, associate professor in the Department of Pharmacology and Toxicology; and Matt Giletto, research associate in the Department of Pharmacology and Toxicology.
Recruited to Refine and Central to Collaboration
In addition to his professorship and director status, Ellsworth also is the co-director of MSU Drug Discovery. However, his most valuable titles may be ex-industrial scientist, medicinal chemist, and drug hunter.
"We specifically recruited Dr. Ellsworth for both his chemistry expertise and his industry know-how and connections. He's really pushed things forward for MSU Drug Discovery," says Neubig.
Ellsworth has more than 25 years of experience as a synthetic and medicinal chemist in the pharmaceutical industry, during which time he was exposed to a broad number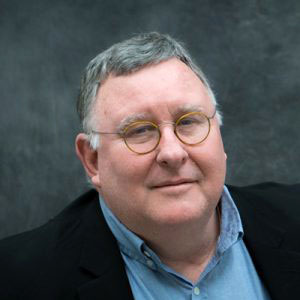 of disciplines and constantly worked in a team environment. That experience enables Ellsworth to pull the necessary disciplines together into a collaborative team.
"Dr. Abramovitch and Dr. Liby really get the biology side. But drug discovery is not just the biology, it requires a diversity of disciplines. Drug discovery begins with an effective collaboration between biology and chemistry. To be successful, they must work well together, and then bring together a number of diverse disciplines to artfully bring a drug candidate forward.
"In drug development, I have two responsibilities," Ellsworth continues. "One, I refine molecules into something—a drug candidate—that has the potential to be therapeutically valuable and, two, I develop intellectual property [IP] that supports the research programs. For Dr. Abramovitch's program, his molecules came from screening, and we then developed unique IP. But for Dr. Liby's, I went to the literature and asked, 'How do I break someone's patent and develop a new space just for us?' We have been successful in both cases."
This is the success MSU Drug Discovery bet on when it recruited Ellsworth. He notes, however, it's a two-way street. "The MSU Foundation and several colleges fund Molecular Discovery Grants, which give seed funding to get these projects started. From there, Dr. Liby has received MTRACs, ADVANCE, and TSGDT supportive grants. For Dr. Abramovitch, we received an exploratory grant from the National Institutes of Health [R21], and we have also received an ADVANCE grant—and can't forget considerable support for early screening activities from the Bill and Melinda Gates Foundation. And now for both, we've got the Catalyst Awards to further advance the work."
According to Ellsworth, what the research teams already have accomplished is a tall order; with limited funds, the collaborators took themselves to the next level. "Drug discovery is a team sport, no one person can do it on their own.
"The point is to be excited about the work people do," Ellsworth continues. "When you do that, you can find common interests and make something big happen."
---
About the Dr. Ralph and Marian Falk Medical Research Trust—Catalyst Awards Program
The Dr. Ralph and Marian Falk Medical Research Trust was created to support biomedical research, and especially to "fund medical research to improve treatments of the past and eventually find cures for diseases for which no definite cure is known."
The Catalyst Research Award Program provides $300,000 in seed funding to support transitional research that could be moved to clinical practice. The award also lays the foundation for a subsequent $1 million Transformational Award from the Dr. Ralph and Marian Falk Medical Research Trust. Earning the Catalyst Award and meeting its required milestones are necessary steps to qualify for the Transformational Award, which brings a drug candidate closer to the application process with the Food and Drug Administration (FDA) to enable clinical trials. Read more.
---
MSU Innovation Center Provides Valuable Pathway to Faculty Research
The Innovation Center is Michigan State University's hub for creating partnerships that lead to economic value and social impact from the daily research and breakthroughs happening across campus. We work closely with faculty, students, and innovation partners to help translate the discoveries made at MSU into real-world products and services to improve lives.

Composed of MSU Technologies and Business Connect, the Innovation Center also partners closely with Spartan Innovations and the Burgess Institute for Entrepreneurship & Innovation to offer faculty and student innovators a full suite of services to help them fund, protect, and capitalize on their discoveries.

The Corporate Engagement team at Business Connect works to create connections between MSU researchers and corporations to establish mutually beneficial collaborations that advance innovation at the university. Through facilitating sponsored research contracts, clinical trials, and other corporate partnerships, the Corporate Engagement team helps create the vital connections that fuel MSU research.

As MSU's technology transfer office, MSU Technologies (MSUT) works with MSU faculty members and researchers on the licensing and commercialization of inventions and copyrightable materials developed at the university. MSUT helps faculty work with MSU researchers on the invention disclosure and technology transfer process, protects faculty inventions by filing patent applications, and manages the licensing of patented technologies to companies worldwide.

Spartan Innovations works with MSU entrepreneurs to develop their ideas, create business plans, and successfully launch highly technical businesses. Spartan Innovations provides many resources to help launch entrepreneurial ventures, including market assessment, commercial development planning, start-up advising, business documentation and support services, mentoring programs, business accelerator programs, venture fellows, entrepreneurs-in-residence. Through Red Cedar Ventures, early-stage investments are made in the MSU Startups.

Courtesy of the MSU Innovation Center
---
The Lengthy Drug Discovery Process
What does it take to discover and develop a new—and effective—drug?
First, researchers must identify and validate a target of interest for a drug. The target is what the drug is intended to address—a bacterium, a virus, or something else.
Researchers screen compound libraries to find "chemical hits" that may engage the target—or researchers turn to the literature for a spark of inspiration in the creation of unique compounds.
Researchers then select the most promising. These are called lead compounds.
Next, lead compounds are chemically optimized. (This is where both Abramovitch and Liby are now, although they are transitioning to the next phase.)
Once lead compounds have been optimized to identify a single compound with in vivo efficacy in animal models, it is evaluated for safety. If successful, the program transitions from pre-clinical evaluation to clinical trials.
Finally, with external investment, the new agent that positively impacts human health is approved by the FDA.
---