SpartanDO Expert Take 2020-05
May 28, 2020
In honor of Mental Health Awareness Month, we interviewed Dr. Farha Abbasi, an associate professor of psychiatry. She specializes in cultural psychiatry and teaches medical students how to provide culturally appropriate care to Muslims. Learn more about Dr. Abbasi.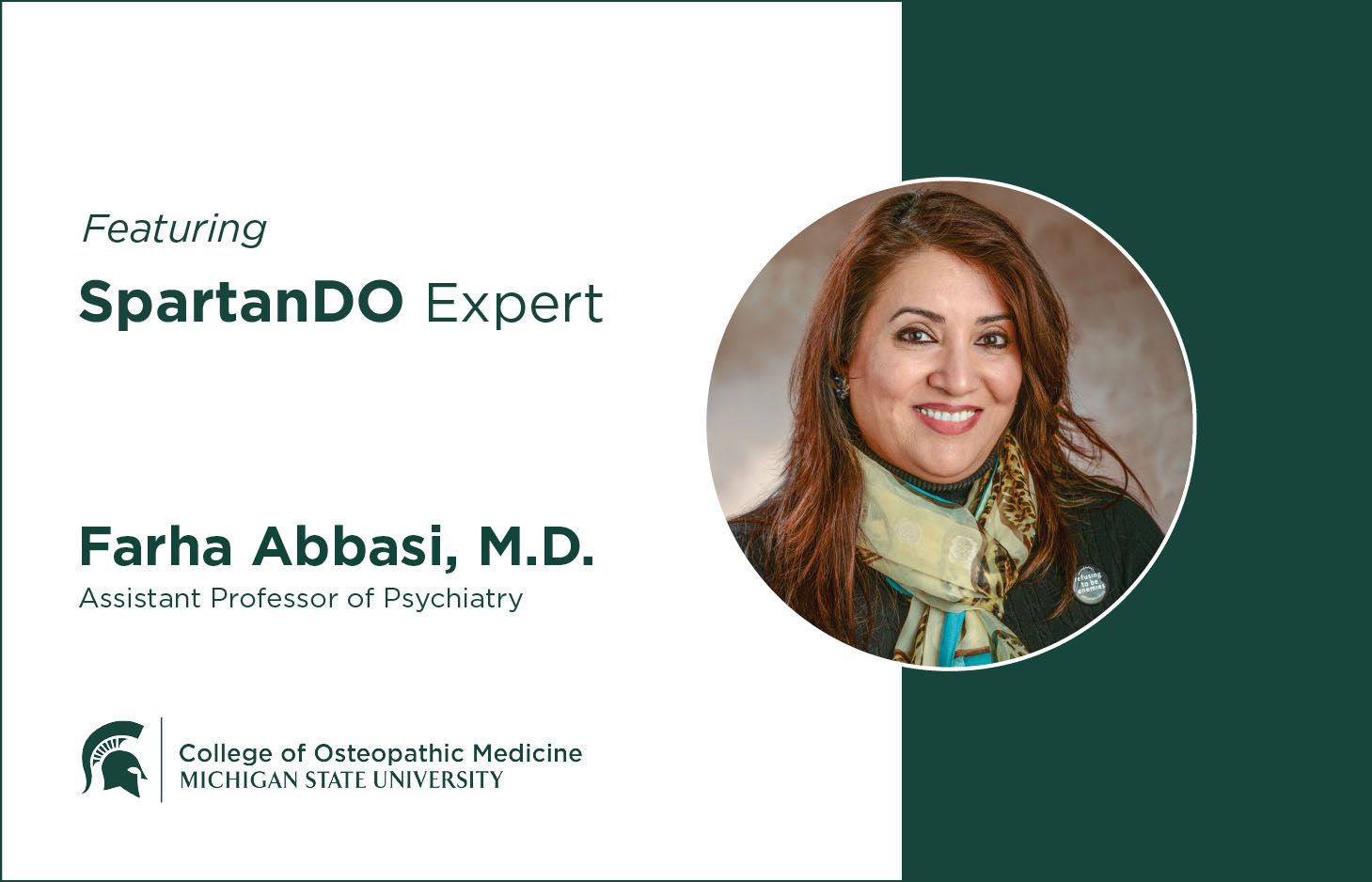 Start with a positive thought: promoting mental health wellness
For Dr. Farha Abbasi, everything starts with your mental health. During crises, it is especially critical to focus on practices that promote mental health wellness.
In recent months, the stressors of the coronavirus pandemic—fear and grief from the surging infection and death rates, anxiety about exposure for essential and front line workers, concern for loved ones, financial challenges, disruptions in routine and uncertainty about the future—have sparked discussions around the short- and long-term impacts on our mental health. These impacts will be experienced differently by different groups, depending on their prior resiliency, level of exposure, support network and safety net strength, and systemic disparities.
But the good news is that there are many simple and effective ways for everyone to maintain mental health wellness, even in the midst of a pandemic:
Simple practices to promote mental health wellness
Think positive: the most powerful tool you have is your thoughts. "Start with a positive thought. Start with what is working, and build on it," Abbasi advises. If you find yourself mired in negative thoughts, try to reframe your troubles in a positive way—you'll immediately notice an improvement in your mood.
Take a break and find balance: trying to support everyone all the time is not sustainable. If you're feeling burned out, you will start to notice irritability, anger, or bursts of crying. You need to be aware of your limits and make sure to find time for yourself each day to do something you enjoy. Even if it's just for 15 minutes a day, try to breathe deeply, let go of any negativity, and indulge in something that makes you feel better. "It's not being selfish, it's being self-preserving," adds Abbasi.
Be kind to yourself and to others: during this time of increased stress, forgive yourself and others generously, reach out, and support each other. You have to feel happy, healthy, and compassionate in order to give that to others.
Find ways to laugh: laughing relaxes you and releases endorphins, which promote an overall sense of well-being.
Exercise regularly: exercising also releases endorphins, and for many people calms the mind, which can boost creativity. Be intentional with your time and space, and look for opportunities, however small, to add physical activity safely to your day.
Eat healthy: eating healthy makes you feel better because key nutrients in fresh, whole foods can influence your serotonin levels and boost your overall health and immunity. Try to make healthy choices whenever you can to the extent that your budget, food choice availability, and schedule allow.
Get enough sleep: a lack of sleep increases anxiety. Getting the recommended seven to eight hours of sleep helps to improve your focus, mood, and health.
"Start with a positive thought. Start with what is working, and build on it." "This is the time to be intentional about changing your habits. There is no health without mental health. Unless we make mental health central, we will not see a decrease in physical illnesses," Abbasi reflects.
In addition to thinking positively and engaging in healthy activities, another key factor to maintaining mental health wellness is seeking help if you need it. Because there may be a surge in demand for mental health counseling to deal with the after-effects of the pandemic, Abbasi advocates for using this moment of opportunity to revamp our mental health system state- and nationwide. We must invest in mental health systems by first assessing, coordinating and strengthening existing resources in order to expand mental health care and treatment to everyone who needs it.
---
Have a suggestion for an upcoming blog post you'd like to see? Submit it to robin905@msu.edu.