SpartanDO Expert Take 2020-12
December 2020
This month we feature Katherine Ruger, Ed.D., the associate dean of admissions and student life at MSU's College of Osteopathic Medicine. Dr. Ruger provides leadership over the divisions of pre-college programs, recruitment & admissions, enrollment services and student records, wellness & counseling and student leadership & engagement.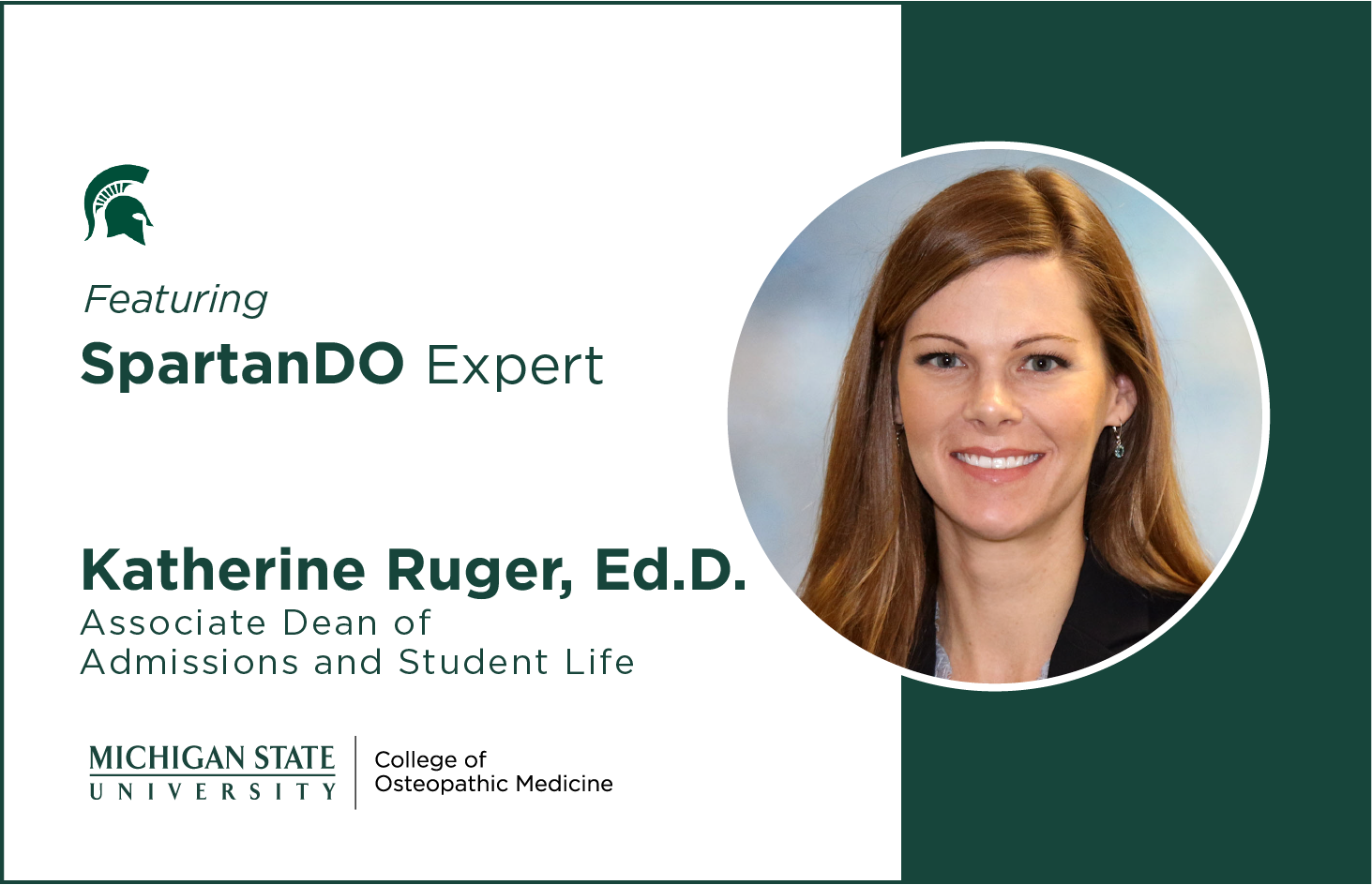 Four reasons to join the SpartanDO legacy
Dr. Katherine Ruger, associate dean of admissions and student life at the College of Osteopathic Medicine, weighs in on why newly admitted students should make the #SpartanDO legacy part of their #WhiteCoatJourney.
Right now, thousands of newly admitted medical school students across the world are deciding where to start their #WhiteCoatJourney. It's an exciting time to feel one step closer to fulfilling your dreams and to imagining opportunities and connections that will shape your career and life. And yet there are also the practical and logistical considerations to weigh—housing, finances, workload, culture and more. Here to help newly admitted students select their school is Dr. Katherine Ruger, who leads the admissions and student life efforts at the college.
1. Decide what's important to you
"Decide what's most important to you during your medical school education—maybe it's exposure to community-based medicine, opportunities to serve the underserved, co-curricular opportunities, specialized curriculum focus, opportunities to travel abroad or strong mentors who can steer you to new opportunities—and identify institutions that align with your values," Ruger counsels. MSUCOM offers many opportunities for all of the above, and encourages students to explore new interests, make lasting connections and access wellness resources.
"While you may or may not have used support services such as academic advising, counseling, mentoring or mindfulness training in the past, you may find them extremely beneficial as you are introduced to the rigors of medical school," she says.
2. Find your new home
Students and alumni often share that being at the College of Osteopathic Medicine feels like home, and that their colleagues, faculty and staff feel like family. We pride ourselves in fostering a supportive, inclusive and tight-knit community. Students and alumni alike are enthusiastically engaged with the college—a testament to the great experience here that they want to pass on to the next generation of students. It takes a village to get through medical school, and your new classmates and college are ready to support your growth.
We've also invested in making sure the future physicians we train are representative of the communities they will treat, and are spearheading several diversity initiatives across the college, including strategically reducing barriers for traditionally underrepresented in medicine (URiM) students to enter medical school. Compared to other medical schools in Michigan, we are proud to graduate the largest number of total URiM doctors since 2014. Since 2016, we have also seen a 50% increase in URiM applicants and an 83% increase in female applicants.
Students and alumni often share that being at the College of Osteopathic Medicine feels like home, and that their colleagues, faculty and staff feel like family.
3. Join a college rich in history and innovation
The College of Osteopathic Medicine is rich in community and history, yet is an exciting place of innovation—evidenced most recently through a collaboration with other colleges to create 3D printed medical face shields for frontline health care professionals at the start of the pandemic as well as our faculty and staff's ability to quickly pivot all curriculum online to accommodate social distancing. This year alone, the college has been granted over $34 million for research to support 43 research projects, many of which engage students.
"Our students, faculty and staff are what makes MSUCOM distinct," Ruger says. "We challenge the status quo, ask important questions and gauge feedback from students and the community in order to celebrate successes and identify areas of opportunity for continued growth." More importantly, "We practice what we preach—embracing osteopathic principles throughout the curriculum and within the student experience."
By becoming a Spartan, you'll join a cadre of extremely dedicated osteopathic professionals who are serving communities, enabling people to find health and contributing to the development of a better world.
4. Tap into a stellar education
The college boasts a 99% match rate (100% for military students) and a large network of community-based hospital rotation partnerships.
"The MSUCOM community has identified many ways to enhance past practices, leverage technologies and continue to offer clinically-relevant professional development," Ruger explains. "We've built the MSU COMmunities model where students are grouped in smaller communities with their colleagues and with faculty members—within these groups, students may deepen their personal and professional growth through curriculum discussions and social experiences, such as virtual baking classes. We'll keep this model going into the future. And we're promoting our counseling and mentoring services––we've hosted mindfulness sessions and integrated Core Wellness modules into the curriculum in order to continue to exude the principles of osteopathy throughout the community."
If you have any additional questions, please schedule an appointment with an admissions advisor, attend webinars, or connect with a current medical student here. #GoGreenGoWhiteCoat
---
Have a suggestion for an upcoming blog post you'd like to see? Submit it to robin905@msu.edu.