SpartanDO Expert Take 2021-09
September 2021
Fostering a recovery community amid rising opioid and stimulant use
Substance use disorder supports and initiatives at MSU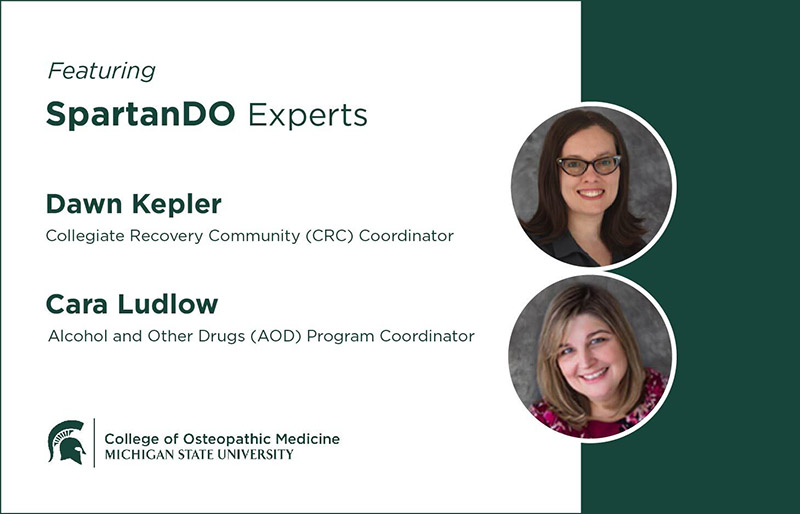 Michigan State University fosters a robust recovery community anchored by passionate practitioners, who guide and support those seeking help for substance use disorders (SUD).
In honor of National Recovery Month—which highlights new evidence-based treatments and addiction recovery practices, encourages strong recovery communities, and honors the service providers and community members who make recovery in all its forms possible—Dawn Kepler, MSU's Collegiate Recovery Community (CRC) coordinator, and Cara Ludlow, the university's Alcohol and Other Drugs (AOD) program coordinator, are shining a light on the services available to students as well as offering advice to future doctors, who will inevitably encounter patients battling a SUD.
SUD has been recognized as a chronic brain disease by the American Medical Association since 1956. Its steady rise means that physicians who have a better understanding of the disease can provide more compassionate and holistic care for patients.
Recovery ally training and prevention and early intervention initiatives
Kepler and Ludlow often work in coordination to offer comprehensive education, treatment referral, and recovery services. Open to all students in or striving toward recovery, the CRC program provides a safe, supportive community offering individualized recovery planning, connections to recovery and mental health resources, peer support groups, scholarships, wellness workshops, sober social events, and on-campus recovery housing—the first of its kind in the state of Michigan.
The AOD program works to prevent SUDs by focusing on primary prevention, education, and early intervention; targeting the entire campus community through prevention campaigns; and making classroom presentations to student groups and organizations like Fraternity & Sorority Life.
"The AOD program and CRC are welcome partners as we collaborate to develop educational webinars about SUDs for our college this year," says John Taylor, Psy.D., director of Wellness & Counseling services at the college. "Alcohol abuse in particular tends to be under-identified given its social acceptability. During the pandemic, we have been aware of an increase in heavy drinking among students to cope with stressors."
"Our program is very student-driven and inclusive of those working any pathway to recovery," Kepler notes. "The pandemic has been a huge challenge for our students, because isolation is the number one risk factor [for SUD]. According to the MSU National College Health Assessment, the percentage of MSU students experiencing high levels of stress jumped from 55% in 2020 to 69% in 2021."
The CRC also offers recovery ally training, which is designed to confront myths and stigma regarding addiction and recovery; introduce appropriate language and convey the importance of empathy; demonstrate that recovery is a long-term process with unique implications for student success; and present the resources MSU has for students in recovery and how to access those services.
"We come from a harm reduction perspective in partnering with students to explore their relationship with substances. We work to identify tools and techniques that individuals can use in working towards the goals they identify and reducing the harms that substances may be creating in their lives," Ludlow says. "We receive referrals from faculty, staff, parents, roommates, and friends. If students decide they want to pursue recovery, we get them connected to the CRC."
"Alcohol abuse in particular tends to be under-identified given its social acceptability. During the pandemic, we have been aware of an increase in heavy drinking among students to cope with stressors."
SUD is predictable and progressive
Both Ludlow and Kepler emphasize that SUD is a chronic brain disease, not a moral failure or indication of weakness or irresponsibility.
"A substance use disorder is a predictable and progressive disease," Ludlow says. "It is permanent and if left untreated, it is terminal. It is a primary illness, not an underlying condition, and it is often co-occurring with mental health disorders. We've made great progress in combatting the stigma around mental health, but a little less with SUD—even though for the first time in history, we have the science to understand how substances impact brain functioning through functional MRI research."
Both Ludlow and Kepler want to see a better understanding of SUDs in the broader medical community. Many doctors have limited training in addiction and recovery, and there is room to improve physician interactions with patients seeking help. Taylor agrees, stating, "Medical trainees and practitioners alike need to be scientifically informed about SUDs to influence best holistic practices with self-care, as well as patient care."
"These days, I like to talk to medical providers about understanding how addiction works in the brain. At its core, it's about dopamine and the brain's limbic system," Ludlow says.
All substances trigger a dopamine response in the nucleus accumbens, Ludlow explains, which affects a person's motivation and executive function. Functional magnetic resonance imaging (fMRI) research has shown that once the dopamine response is hijacked by substances, the brain rewires itself and eventually, the body's craving for dopamine is bigger than even its desire for food or water. Because substances are dramatically elevating dopamine levels, the brain adapts and, over time, produces significantly less dopamine. One of the reasons recovery is so difficult is because dopamine is motivation—when patients enter an abstinence-based treatment program, they are attempting to recover with just a fraction of the dopamine their brains need to function.
SUD treatment
"We need a call to action in how we treat people with SUD," Ludlow adds. "Substances hijack a brain's limbic system, which in turn affects the prefrontal areas of the brain that are responsible for our executive functioning; things like decision making, critical thinking, goal setting and delaying gratification. In treatment we expect people to be motivated, express their feelings and create recovery plans, when they often don't have the dopamine levels to want to get out of bed. We have to do more work around expanding the treatment model and putting systems in place to support individuals seeking recovery and setting them up for success."
Ludlow says she understands the frustrations doctors have with patients who exhibit drug-seeking behavior, or who seem to be wasting treatment resources. However, she feels the medical profession has a huge opportunity for better outcomes with evidence-based modalities, such as Medication Assisted Treatment, and science-based tools to more effectively support a person seeking recovery.
"Doctors, treatment providers, and communities need to redefine what successful treatment looks like," Ludlow points out. "We can't just measure success by the absence of substance use. This is a chronic recurring disease; we should also measure success through engagement, perseverance, commitment, resiliency, and effort even if a person is not able to maintain complete abstinence at any given time. If they are working towards it, that counts. The medical community has to look at it like they do Type II diabetes and insulin. Some patients may need lifelong maintenance, so how can we support them?"
For physicians seeking to gain a better understanding of the latest medical research around SUD, both Kepler and Ludlow admire the work being done by Nora Volkow, the director of the National Institute on Drug Abuse, who offers her insights through a blog.
Kepler also recommends doctors and medical students learn more about a screening tool created by SAMHSA called SBIRT. "It's meant to be brief and create rapport with patients. Shame often shuts down communication around substance use and recovery. SBIRT meets patients where they are. It's a great tool for doctors to plant the seeds of recovery."