SpartanDO Expert Take 2023-07
July 2023
Advice for new students during Orientation Week
Senior Associate Dean of Admissions and Student Affairs Dr. Katherine Ruger, shares tips and resources for this year's incoming medical students.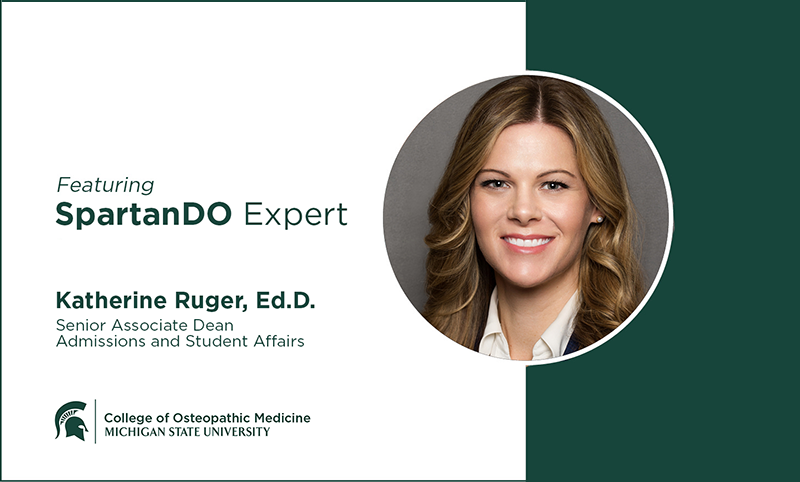 There is much excitement across the Michigan State University College of Osteopathic Medicine, among students, faculty, and staff, during orientation.
This week, students across all three MSU College of Osteopathic Medicine sites are welcomed to the community in what will be their first chance to connect with peers, faculty and staff, to learn, bond and grow together. Orientation gives new students a chance to navigate a new environment and new relationships, which can cause new emotions to arise.
"Students are eager to start what they've been working their whole lives trying to achieve," said Dr. Katherine Ruger, senior associate dean of admissions and student affairs. "With any kind of change, even when perceived as a good change, there are stressors associated."
Dr. Ruger outlines tips and resources available to guide incoming students through the flurry of thoughts and activities surrounding orientation week to make the most out of their experience.
Tip 1: Crush impostor syndrome with positive reframing and a growth mindset.
In addition to the excitement that comes with this week's events, students may also experience a sense of impostor syndrome, or thoughts from one's "inner critic" that may begin to seem true when faced with stress. Dr. Ruger recommends combating thoughts like "do I actually deserve to be here?" by taking a moment to run through the concrete facts: "I earned my spot at MSUCOM through my dedication, intellect, compassion and the positive impact I have made on my community."
Another way to combat impostor syndrome, Dr. Ruger adds, is through adopting a growth mindset. She suggests using reminders like: "I don't have to know everything today, that's why I'm here as a student, to learn things – I am going to choose to be open to learning every step of the way, whether it's anatomy and biochemistry, or learning professional and social skill sets that will help me to be an outstanding osteopathic physician and care provider."
Tip 2: Observe by "sitting on the balcony."
"It's an exciting position to be in a setting with many other individuals who are brilliant and who have a heart of service," Dr. Ruger said. "As I entered graduate school, I took the approach of what I call 'sitting on the balcony,'. Being in an observer's standpoint can allow one to get out of their own head and get the most out of the present experience. From (a 'balcony') perspective, you can watch, learn, and appreciate other's expertise and find ways to bring your own expertise to the community. What a luxury to be involved in such an amazing community! Take advantage of it!"
"It's an exciting position to be in a setting with many other individuals who are brilliant and who have a heart of service."
Tip 3: Act according to your values.
Confidence during a new experience can be found in focusing on what one can control. Dr. Ruger points out, "When you can't control much, you can always control the values that you are honoring in the moment, and the way you show up."
"Even in small ways, and even in times of great stress and challenge, there is always a way to honor your values. If you value something like mindfulness or self-care, you might not have time to attend a 90-minute hot yoga class, but you might take five minutes and do some breathing exercises. It's all about making time for it in the first place."
Tip 4: Use your resources, even if you think you may not need them.
At its core, osteopathic medicine focuses on preventative medicine, and Dr. Ruger reminds students to take that same preventative approach in pursuing their medical education.
"There are formal resources we offer, and we always encourage students to take advantage of, even if they don't think they need it – academic advisors, career advisors, wellness and counseling, pre-exam mindfulness activities, and other resources that help complement and enhance a student's experience."
Additionally, there are a wealth of resources to be found for students right in front of them – in the peers experiencing orientation alongside them and the second-year students who have been eager to welcome our incomers to the community.
Dr. Ruger will also communicate to the class each Friday to keep them updated throughout their preclerkship experience.
"I want students to know that faculty, staff and administrators are eager to support them throughout their journey," she said. "So don't be shy about asking questions or asking for help. Everybody is in this together."