Community Integrated Medicine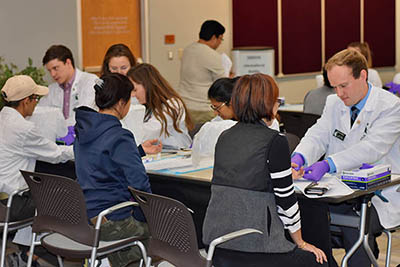 Also known as CIM, this activity gives first- and second-year medical students the chance to help medically underserved communities while they learn and build their clinical skills. At CIM health fairs, students provide free basic health screenings that include blood pressure, cholesterol and blood glucose testing. They also provide information on local resources, nutrition, healthy lifestyles, cancer screenings and vaccinations, all tailored to the individual's needs through one-on-one interaction.
Other CIM activities include flu shot clinics, educational presentations and student skills labs. A faculty advisor or licensed physician is present at all events to answer patient and student questions and to ensure they provide the best care possible.
Contact
Email: msucom.CIM@gmail.com
Faculty advisor: Craig Gudakunst Craig.Gudakunst@hc.msu.edu
To donate, please go to https://givingto.msu.edu/gift/?appeal=18MASWB1MAIN and include "AS000133" in memo line of check.